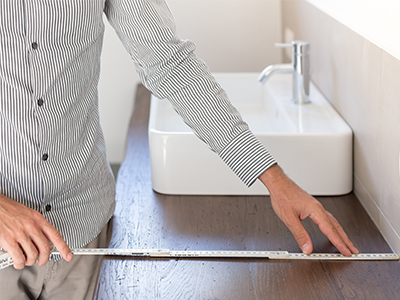 At Reico Kitchen & Bath, we are all about making the most of it. Whether you are the heroes out on the front lines, under stay-at-home orders or somewhere in between, we are all spending more time than ever from home. Too often, it can easily feel like your life is on pause. And those feelings can be magnified if you had a bathroom or kitchen renovation project planned.
There is a bright side. While the time for a complete renovation might not be right now for you, there are still a whole number of easy renovation projects you can do while you stay at home. You are already in the right place for these projects to begin and most of us have the time...plus, aren't we all feeling a little antsy. There is always something to update or refresh in the home. Check out these easy renovation projects you can do while you stay inside to make your time at home that much more enjoyable.
Repurpose Your Bookshelves
Have you been staring at the same shelves and layout of things for a long time, not realizing the immediate potential right there in front of you. You know where this is going! If your bookshelves are actually for books, arrange those books differently than they were before. However, if your shelves are for other items then let's get a little creative. Switch things around, add from other shelves, or remove or adjust the height of shelves. Open shelving is one of the top trends right now because of how versatile it is. Make a new scene.
Have a Paint Night
Not an artistic painter? No worries! Let your kitchen or bathroom be your canvas and paint those or any rooms for that mattera new color. You can order paint samples online, use augmented reality services to better visualize how the color is going to look on your walls and even order paint online. With your extended time at home, you have the opportunity to reinvent any room inside your house. If you are not totally on board for painting an entire room, consider doing some detail work. The house can always use touch up on the doors, door frames, and baseboards. You will be surprised how a little touch up can really give the entire area a refreshed, cleaner look.
Do Some Landscaping
If you have not already, and let's be honest...we are sure you already have...there is nothing that can freshen up the look of your home like doing some work in the yard. Now is the time to trim those trees and cut the hedges. You can safely order or get plants from a nursery and bring them home to plant, literally adding life to the exterior of your entire home. If for some reason you don't have a space to add new plants or don't have a front or back yard to work with, bring the green inside. Adding house plants, herb gardens or other greenery to your space immediately makes any atmosphere more cheery and healthy. Quickest renovation project ever.
Curtain Call
It is curtains for your old curtains. Order a new shower curtain to replace that old one that has been hanging for some time. You know the one we are talking about. Replace and you have instantly done a quick bathroom makeover. Kitchen curtains might need some updating as well. See what catches your eye online, and get ready for your kitchen to add a whole new accent to its look and feel. Even if you don't want to get new curtains entirely, here is your chance to throw those curtains in the wash and make everything fresh - something you probably would not get around to in your regularly busy schedule.
Get In Some Wall Work
It is decorating time. One of the trends taking off lately is the repurposing of old mirrors and hanging of multiple frames on the wall. Yes, that empty wall in your house really can become a work of art. If you have empty frames hanging around, add them to your wall. Rearrange some photos from other parts of the house or ones that have been sitting in the garage for some time. Before you know it, you will have your own new art gallery to look at in your house.
Add Hardware to Your Cabinets
Look at adding drawer pulls and knobs to cabinets that might not have had them before. It gives the space a new look and feel. Knobs can be much easier to install, but don't be afraid of pulls if that is what your heart is set on. This one simple move can add a huge level of sophistication to your kitchen or bathroom, and is easy to do at home on your own.
Evaluate Your Lighting
There is nothing worse than being at home with dim lights. Now is a perfect time to go through your home and see what light bulbs are being used and what kind of job are they doing in the space. You may find you like something brighter for your bathroom, or maybe you want a dimmer or some under cabinet lighting. This might even be the time you make the switch to LED light bulbs, so your rooms are much brighter and energy efficient than before.Whether it is order replacements or going in a new direction, a thorough assessment can lead to some simple improvements. Dirty lamp shades can also be a culprit when it comes to bad lighting. Now is the time to assess and clean out those lamp shades.
Plan for Your Renovation
While at home, you can also use the time to plan out your dream remodel for the kitchen or the bathroom. With a little more free time than you are normally familiar with, use it to research the styles you like for your home, make a Pinterest board, or cut out some magazine clippings. When you decide it is time to remodel, you will have all the ideas you need to begin your project. Get as specific as you want - the more refined your ideas, your likes and dislikes, the better. From cabinets, countertops and appliances to the type of tile and the color of your backsplash, you'll be able to envision the space that you are looking forward to.
At Reico Kitchen & Bath, we are ready for when you decide it is safe to return to your bathroom renovation project. Whether you are looking for an upgrade to your kitchen or a rehaul of your bathroom, let us partner together and understand you and what your project needs down to the finest details. Give us a call. Your dream room is waiting just around the corner.