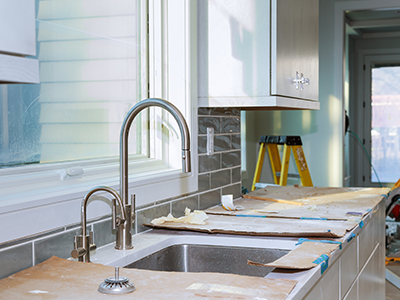 It does not take a rocket scientist to sum up this year as succinctly as possible. This current year has been a difficult time for us all. And if you were looking to remodel your kitchen or bathroom when COVID-19 hit, chances are your plans might have been derailed a little bit.
If you were in that group planning to remodel a bathroom or kitchen, or you've added yourself to that group after spending all this time at home, the good news is that in spite of all this craziness you can take steps to continue planning your kitchen, your bathroom or almost any home renovation. Chances are that you will now have the time to put even more thought and effort into the project (or projects) you are considering. When the time is right for you, you will be as ready as ever.
Outdoor vs. Indoor Projects
Right now, many contractors and clients are more likely to prefer outdoor jobs than indoor jobs. We understand. Maybe you have always wanted a kitchen in your backyard. Now is the time to scope it out and add it. Being outdoors adds a layer of safety to the project during a time where everyone is looking for work that's safe. With all the demand for outdoor work, you might have to wait some time for a bid.
Do a Virtual Assessment
In the past, you might have had a designer or a contractor come to your house right from the start and take a tour to get acquainted with the space and so you can show them everything that you are wanting to change and what you are dreaming of getting done. Now that we are all trying to limit the amount of people coming in and out of your home, that has become more difficult. Technology gives us ways to work around it. You can send photos, and even schedule a virtual tour of your home with your professional on the other end, so they are able to see your space and ask you questions in real time.
Create Temporary Barriers
When you decide to move forward on a project indoors and your job is underway, it is inevitable that there will be people going in and out of your home. Because of that, you might want to plan for temporary barriers to clearly designate space. This likely will already be something that your contractor already requires but should be discussed if not. You can set up a plastic wall or walls in your house that separates you from the work that's being done and create a barrier to anyone else who might be present in one of the rooms in your home.
Maximize your Home Investment
Because you have been able to take your time in planning a home renovation during this period, you can think about getting the greatest ROI on your project. You can do your research to see where your budget aligns best with your investment in home remodeling, determining what other people paid and where you line up. You can also get all the details from using a remodeling cost vs. value report that allows you to search databases that compare costs of renovation by zip code. The more work you put into this research up front, the more you will know when the time comes for you to move forward with your project.
Save Up While You Wait
Now that you are staying home more, you might also be able to save up more for your investment. With the current events though, you might not have the same amount of income you have always had. While it is up to you to decide whether you are going to put a pause on your renovation plans until things become more steady, there are options out there that can assist you with your finances.
Federal Housing Administration (FHA) or Fannie Mae HomeStyle Renovation Loan:

This loan

with the very long name will allow you to go ahead with your remodeling. A flexible option, it allows you to finance up to 97.5% of the improved value of your home. There's also a smaller version of the loan that allows you to take up to $35,000 for non structural changes, which is often all that is needed for small kitchen or bathroom projects.

Same as Cash Financing: This is an option to take advantage of when a store's in store program offers financing. You'll be able to make a purchase immediately, without paying interest. You'll be given terms to agree to pay it back before a certain period. If you do pay your fee on time, you never have to pay the interest, making this plan the same as paying cash.

Cash-out Refinance: Interest rates tend to be low here, so it could be a good option if you're planning a large project. You are both refinancing your mortgage and borrowing money at the same time, getting a check when you close.

Home Equity Line of Credit (HELOC): When you get a HELOC, you're only paying interest on the line of credit that you're using. Therefore, closing costs are minimal.

Taking the First Step
The most difficult part of doing a home renovation project is something you would not always expect. Taking the first step, and deciding that you are going to do the project can be the biggest challenge. The future might seem more uncertain than ever. But committing to something can actually make you feel like there is something out there that is steady. When it is right for you, you will be able to sit down and plan when you want to do your project and then pull the trigger and set a date.
If you were planning to start your renovation and the pandemic hit, the same goes: you can still plan a time for when you will be able to do the project. Whether you have already broken ground or getting a new kitchen or bathroom is a dream inside your head, it is always a good to be planning.
At Reico Kitchen & Bath, we have been in the business for close to 60 years. We have worked on thousands of kitchens and bathrooms, working hard to make each and every client happy about their homes. In all our history, we have never experienced anything like the Coronavirus pandemic. But we can assure you one thing: we are in this together. Whether you are looking to get a project done in this season or are taking the steps to plan for a renovation when the time comes, we are here and happy to assist you with any questions you might have regarding your home and the project you are considering. Give us a call today.