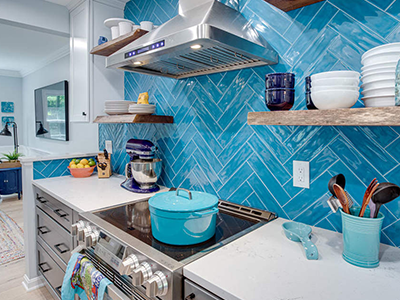 You know how the quote goes: the devil is in the details. When you are remodeling your kitchen, you might be thinking about all the things that go into creating the big picture. No doubt you should be. But once you have got the big picture nailed down, it is time to delve into the details.
You want to get the little things right from the start, because the little things all add up. When each and every nook and cranny of your kitchen is just how you like it you will be more satisfied with your kitchen now and for years to come, instead of wanting to do more in the space or even (gasp!) considering remodeling again soon after. How do we avoid that? Here are some kitchen details you want to pay attention to during your kitchen design and planning.
Kitchen Detail: Customized Storage
One of the main problems people have with their kitchen is that it does not offer up enough storage. It can be hard to love your kitchen when it is covered up with clutter. That is why cabinet storage solutions are a detail you must include in your kitchen remodel.
Think of the wide variety of cabinet accessories as options and features you can add that are unique to your kitchen and how you use it. Add solutions like lazy susans, soft-close doors and drawers or roll out trays. Create efficiency and organization with utensil organizers, customized cabinet inserts, and even K-cup tray inserts that lay out your coffee perfectly. Really get into the details of your kitchen with built-in spice racks and hidden waste and recycling bins that can be thrown into the design. Customizing drawer and cabinet storage performance creates detailed solutions that will make a big difference in your kitchen each and every day.
Kitchen Detail: Open Shelving
You might not think about the shelves in your kitchen - but that is because it is a small detail! In addition to or in place of wall mounted cabinets, you can opt to add open shelving to the walls or a wall of your kitchen. Consider total storage when looking at this detail as it can cost you some. If dust is an issue, this may not be the best detail for you either (our next detail might be a better solution). However when it does work this detail allows you to grab your bowls, plates or whatever you place on there without having to open cabinets. You can also add little touches of decor to the shelves themselves, like artistic sculptures and some thoughtfully placed books.
Kitchen Detail: Glass Cabinets
When you are considering cabinets, our first instincts are to be thinking that they are going to be solid doors that hide all the items you are storing inside of them. Instead of hiding, add a detail and open up a few of the cabinets by incorporating glass into your cabinet doors. You can give people a preview of some of the dishes that you love, or maybe show off that expensive bottle of whiskey that you only break out on special occasions.
Another little detail you can think about with your cabinets - and especially glass cabinets is lighting. Adding cabinet lighting not only showcases some of your pieces, but can also make it easier to see what you are storing.
Kitchen Detail: Tile Finishes
Tile is making its way into more and more kitchens. Yes, deciding on the type of tile that you are going to use is the key first step. But, there is still a detailed decision to be made: what kind of finish do you want? You can choose from matte, flamed, polished or more. Ask your designer what type of finish they think will work best for your kitchen style.
Kitchen Detail: Outlets
While your outlets are typically small in size relative to the rest of the kitchen, this is a huge detail in the kitchen that will make an impact on the way you use your kitchen every single day. The actual placement of outlets should be close to your work stations, so you can use multiple gadgets without having to move around. You can think about pop-up outlets, horizontal outlets, or outlets inside your cabinets and drawers to hide charging or other clustering activities.
The color of the outlet frame can make a big difference as well. The typical outlet cover is a white or beige, which might not fit the look of your kitchen at all. Take some time to look at outlet hardware and see what matches best with the look you are trying to achieve in your kitchen.
Kitchen Detail: Grout Color
This might seem like another small detail in your kitchen remodel, but paying attention to the color of your grout can really liven up the design of your kitchen. You are probably used to the idea of white grout in your tiles. But you can actually get your grout in almost any color you like. Think about different ideas - a dark grout paired up with light tiles can be a cool detail you might love to add to your space. Choosing the perfect grout color can add dimension to your floors, countertop, and backsplash all in one move.
Kitchen Detail: Pendant Lighting
The main or general lighting of the kitchen is something typically decided on early when planning your remodel. Pendant lights, however small, are a detail that can add a huge amount of texture and depth to the area, not too mention visibility. You can add them around task areas, or combine them with your main overhead lighting for added details. Added light features always bring in an exciting layer and element to a remodel.
Kitchen Detail: Maintenance of Countertops
When choosing your countertop material, we often first gravitate towards our thoughts about the look. An important kitchen detail to consider as well is how much effort it is to maintain. Options like marble need to be spot treated, sealed, and protected every few years to ensure that they remain looking fresh and in good shape. This should not mean that you do not choose the material you have been looking at or dreaming of - it just means it is a small detail you should be paying attention to.
Kitchen Detail: Microwave Placement
Microwaves are not really known as a centerpiece of the kitchen. As a result, you have a lot more flexibility in its placement. You can place your microwave lower in an island, or even hide the microwave in a cabinet. Or maybe even ask yourself whether you even need a microwave? Your microwave placement can impact the overall look of your kitchen. Thinking about it strategically can mean placing it where it is not in your direct line of sight, the result of which can make your kitchen look much more streamlined.
Reico Kitchen & Bath knows just how important it is to you that your kitchen is exactly right, down to the most devilish of details. We have got you covered. You can plan your remodeling project virtually, or come safely into our stores. Get started on the kitchen or bathroom of your dreams today, and finally find that space you want to call your own.