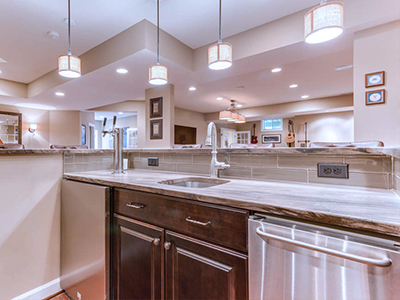 These days, we all have got a lot of time on our hands. When we think of all the things we might want to do, many times those thoughts come back to the kitchen renovation projects you have always wanted or talked about. You are already dreaming of the days where you will be able to entertain again, and we are all hoping those days are coming soon! That's why we are focusing on wet bars and dry bars. When you are ready to start being the perfect host again, if everything goes to plan you will have the perfect bar to go with it.
No matter what style or size your home is, an in-house bar is absolutely going to change your entertainment game. All you need to do is decide which type of bar is going to be right for you. The good news is that at its most basic level, you need to decide if you want a wet bar or a dry bar. Let us take you through some basic definitions and kitchen design ideas around both to help you decide if you should get a wet bar or a dry bar.
What is a Wet Bar?
In its simplest terms, a wet bar requires plumbing. A wet bar is most likely to be found inside your home, strategically placed to mix up alcoholic beverages over a counter space you can use to both prep and serve drinks. It also contains storage, for glasses and for bottles of alcohol. The great separator? A wet bar has a sink where you can rinse and clean glasses. Maybe it includes a small dishwasher or dishwasher drawer, or a small refrigerator or ice maker. Water is the key!. A wet bar requires plumbing going to it. Indoors, that can sometimes be a challenge. Go outdoors and you might find you have more flexibility. Wet bars started gaining popularity in the 1970's, and never slowed down. People were beginning to turn their basements into areas for entertaining and games and where better a place could there be for a wet bar!
What's a Dry Bar?
A dry bar is essentially the same exact concept as a wet bar, but without the sink. That means that there is not plumbing necessary to be run to a dry bar. Most dry bars are smaller in size than their wet bar counterparts. However, a well designed dry bar (even a smaller one) still contains storage for glasses and alcohol, and allows you a space to prepare drinks.
When Should I Get a Wet Bar?
Wet bars are more convenient than dry bars. When you need ice or you want to rinse off your glasses for another round, you do not want to have to make a trip to the kitchen, or worse, reused those dirty glasses. When you are blending up a margarita and need to clean out the blender, same idea - stay in your wet bar to do all your prep and your cleaning in one place.

We all know that when drinks are being prepared, there is always a chance of a spill or two. A wet bar makes cleaning up messes much more simple. You can simply wipe the spill into the sink. No leaving the mess to clean up for later when your guests leave - it can be done on the spot. Slicing up fruits for the drinks or to add as a garnish? Just move the excess right into the drain.

When you are hosting, you are used to running around and multitasking. A wet bar will allow you to slow down a little, because everything is in one place. Now you are going to be more present for your guests, not to mention that they will also be impressed with your design and setup. When you are mixing drinks behind the bar where your guests are hanging out, you will be able to participate in the festivities right along with them.

The potential downside of a wet bar is that it is going to be more expensive to install than a dry bar. Routing plumbing to an area that is not accessible to current plumbing can increase the difficulty of the task. Regardless, wet bars can be added to any room that you want. Indoors or outdoors...any space in your house can be considered for a wet bar.
When Should I Get a Dry Bar?
Knowing everything you know about wet bars, you will likely be able to quickly determine if you would rather have a dry bar or a wet bar.

A dry bar is a simple setup. It gives you extra space to mix your drinks. It's your go-to, dedicated spot for all your alcohol and your glassware. Plus, if you are not sold on a wet bar yet, you can take small steps and get a dry bar. Depending on what you design, it may be that you allow yourself the option to convert it into a wet bar later if you decide that you like it.

Dry bars are a popular choice if space is limited. When you have less space it can be more difficult to add plumbing to the area. If you determine that you don't need too much space, a dry bar can still provide with an area to serve drinks for your guests.

One way to spruce up a dry bar is to add a liquor cabinet to the area. You add some storage, and show off your collection.


At Reico Kitchen & Bath, we are all about raising the bar on your ability to enjoy your home. There is nothing like entertaining guests, and we want to serve you the ideas you need to decide on the right bar to enjoy from design to happy hour. Call today and book a consultation, so you can talk to our specialists and see what is going to work best with your home. Cheers to that!

Safety is our number one priority. We are limiting showroom visitors at a time, and are taking additional precautions with our hygiene and cleaning procedures. For your safety and ours, you can also request a virtual consultation. We are all in this together, working with one another to let you and our staff stay safe and comfortable.