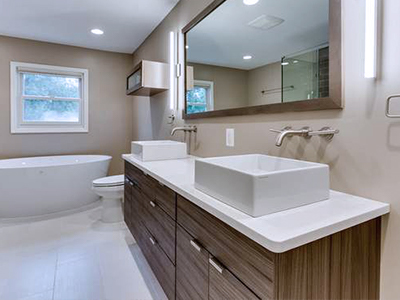 You're always looking for ways to improve, and the same goes for your home. One of the most frequently used places in your home is your bathroom, and one of the most frequent complaints about a bathroom is that it doesn't have enough space.
Enter the floating vanity cabinet, and we've got an idea to float for you. Wall-mounted vanities can make or break your bathroom, but it all depends on the bathroom space you already have. That's why we're analyzing the pros and cons of adding a floating vanity cabinet in your bathroom. Or, you could call them...the flows and cons.
So, What's a Floating Vanity Cabinet?
Before you can ask yourself if a floating vanity cabinet is right for you, first you simply need to know what it is. Sometimes a floating vanity cabinet is also expressed as a verb - floating your vanity.
Most traditional cabinets that you see are just that: traditional cabinets. Floated cabinets are wall-mounted vanities that float above the ground, so instead of extending all the way to the bottom of the floor, they rest slightly above it. That means the wall behind the cabinet is seen extending all the way down to the ground instead. It's your regular vanity or bathroom cabinet, just floating off of the ground.
The Pros of Having a Floating Vanity Cabinet
Here's some of the reasons that you might decide that it's time to go with the flow.
You'll love the super sleek, modern look that a floating vanity cabinet instantly adds to the entire look of your bathroom.

Your bathroom is going to look bigger when you install this piece. The flooring of your bathroom is now going to extend all the way to the wall, which means that the eye will have more room to look. Not only that, you'll actually have more room in general, because now you'll have somewhere for your feet to go while you wash your hands, face, or brush your teeth.

Cleaning is easier than before when you put in a floating vanity cabinet, because you just got rid of all your corners and nooks. The dust bunnies that were once skirting around the corners of your bathroom are now totally exposed, and melt away with one swipe of the mop, instead of your having to dig deep into the recesses of your bathroom.

You've got options for adding more storage. If your sink is floated high off the ground, then you can add under sink open shelving to show off how truly organized you really are.

Giving your bathroom a modern update and adding a floating vanity can help you show off the other pieces in your bathroom. For example, say you've got a great sink or a showstopper of a claw foot tub. Where they were hidden by a large vanity before, now they're given their time to shine.

Got tiles you really love? Same thing applies - floating your vanity will give your bathroom a facelift and expose tiles that weren't exposed before.

When you have an open space underneath your sink, you're giving more options to the people that are going to be using it. If someone in your home uses a walker or a wheelchair, it will fit more easily under the vanity. If you have a young one that needs to use a stepping stool to reach the sink, now the legs of the stool have somewhere to go when they're using the water.

Specific to homes that have radiant heat, a floating vanity cabinet is a great idea. When you're using your sink, you'll be able to keep your feet nice and warm, because you've added extra room for feet warming opportunities.

The height of a floating vanity is very customizable, so you can have it as tall or as low as your bathroom calls for. You can very much decide on what height that you like best, and adjust it for taller or shorter users according to what you think will be best.
The Cons of Having a Floating Vanity Cabinet
Even though there are a lot of advantages to having a floating cabinet, the style is still not for everyone.
It will require professional installation to ensure that the fixture is attached properly on the wall - this really isn't your DIY project. Because of that, you can't really expect to cut corners when it comes to cost, although as far as renovations go, this isn't a particularly pricey project.

A steel or other strong support frame is needed to hold the vanity and keep it affixed to the wall, especially if there are children or elderly people living in the home.

You'll need to make sure that your whole bathroom floor is finished, because floating the vanity will expose the rest of your floor.

This is style preference only, but since this is such a sleek look, people who are going for a more traditional feel to their decor probably won't want to float their vanities.

Sometimes, space can be compromised. The sleek design can mean that the sink takes up less space, which leaves you with less cabinet room than you had before. This is especially true if your vanity is the only storage in your bathroom.
We want you to know that we're all in this together. At Reico Kitchen & Bath, we want to work together with you, and recognize all the ups and downs that come with the times. Life is already hard enough right now, and we don't think that your home renovation should have to make it any harder. In fact, one of the reasons we love remodeling people's homes is because of the peace of mind that comes with having a functional room where you can cook, clean, or shower. If you're looking to make some big improvements to your kitchen or bathroom today or in the future, we'd love to work with you. Contact us now.