Do you ever feel like your kitchen island design is missing something? That it could be so much more than just your common kitchen island with a countertop and cabinets? It is not unusual that you feel this way. Many of us have a similar problem. The good news though? There are near endless possibilities when it comes to transforming your kitchen island design.
Not sure where to start? This blog presents to you expert-approved kitchen island design ideas and inspiration that will help get you started with creating a kitchen island that is efficient and functional to your cooking routines. So read on and enjoy the ride toward transforming your kitchen island into something more inspiring!
1. Add Seating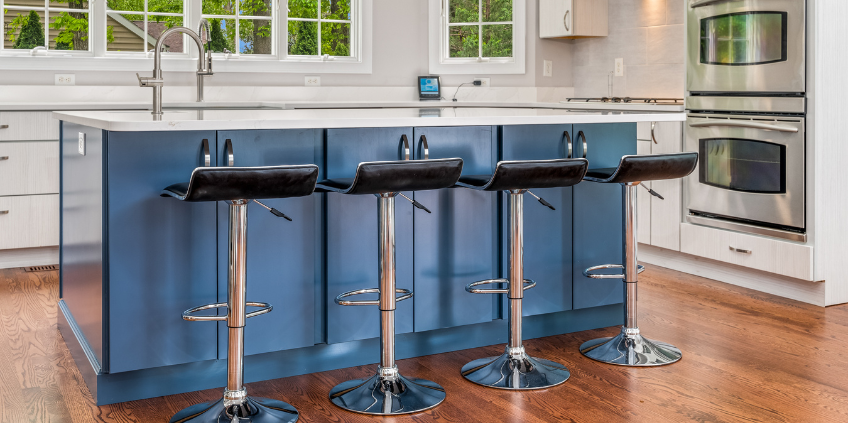 Seating, be it more traditional or as a breakfast bar, is a great way to make your kitchen island more engaging and inviting. With a well-incorporated breakfast bar design, your kitchen island becomes so much more than a surface to prepare food. It provides an extra eating area that is perfect for casual meals such as breakfast, a morning cup of coffee, or quick brunches with your family and friends.
The shape and size of your kitchen island will determine the number of people who can comfortably sit at it. If you have a large kitchen, you may want to consider a long, rectangular kitchen island that can seat up to eight people. However, if you have a small kitchen, a square or rounded kitchen island will be more practical for incorporating seating.
2. Contrast Colors of Cabinetry and Countertops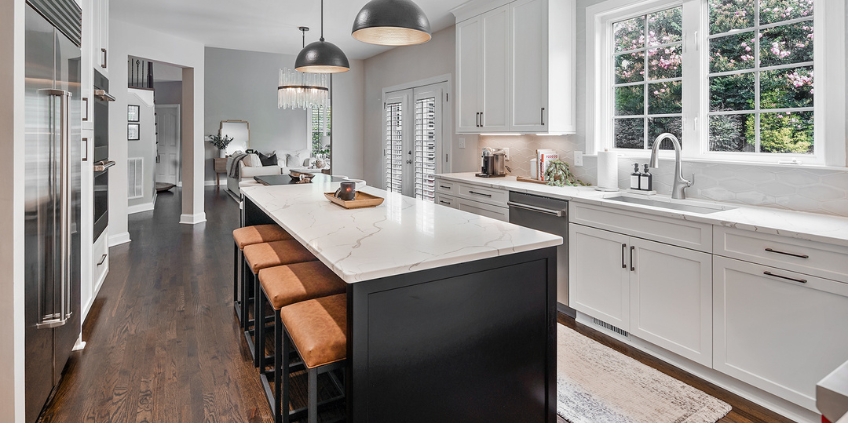 One of the best ways to immediately transform the look of your kitchen island is to use colors that contrast with your cabinetry and countertops. Pairing a dark kitchen island with lighter cabinetry, or vice versa is a great way to create visual interest and add dimension to your kitchen. And don't be afraid to experiment with color! A brightly-colored kitchen island can add a touch of playfulness to an otherwise subdued space. You could also use two different shades of the same color to create a more subtle contrast to create a seamless blend.
3. Create Additional Counter Space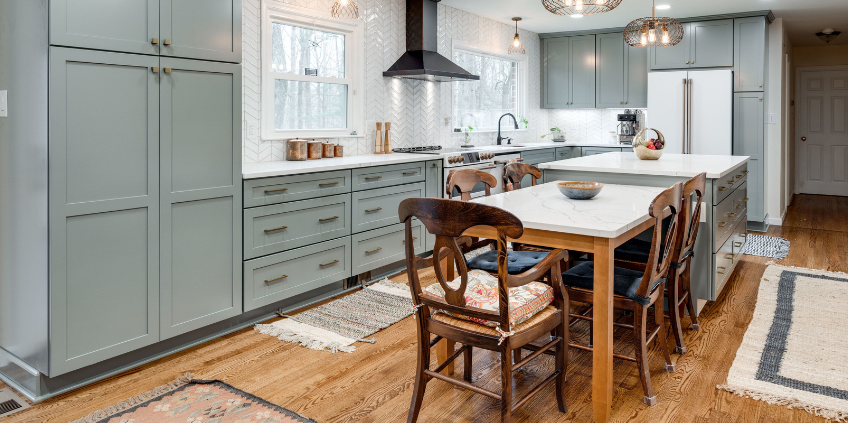 If you are like many homeowners, you may find that your kitchen could use a little more counter space. Particularly in a small kitchen, this can be a game-changer. Whether you are cooking or baking, having that additional surface area can come in handy. Incorporating additional counter space in your kitchen by increasing the kitchen island size can be an impactful way to improve your kitchen's functionality and efficiency. You can use the extra counter space in a variety of ways… for meal prep, as a buffet for guests, or simply as a place to set down groceries.
4. Incorporate Appliances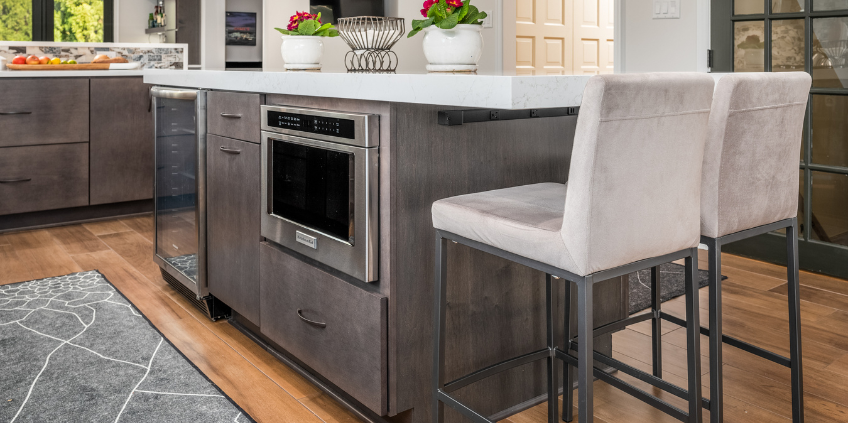 When planning the layout and design of your new kitchen, one of the best ways to add both function and style is to incorporate appliances into your kitchen island design. Very popular options for the kitchen island are appliances such as a cooktop, microwave, mini-fridge, or dishwasher.
For those of us who like to entertain or just keep our favorite bottle of wine within reach, wine refrigeration appliances provide valuable storage as well as keep your wine at the perfect temperature. Because of the kind of condition that wines must be kept in, you must put careful thought into the planning. So when designing your wine cabinet island, be sure to consider the type of wine you will be storing, as well as the size of your collection.
It is important to ensure that the plumbing and electrical connections are up to code before attempting this type of installation so that they fit well into the overall design of your kitchen. You will want to ensure that the island is properly ventilated to prevent the risk of mold or mildew.
When incorporating appliances into your kitchen island design, you must consider how you will use them. For example, if you plan on using your island for food prep, then choosing appliances that reflect this usage will be important. This includes countertop appliances such as food processors and blenders as well. If you plan on using your island more for entertaining, then consider choosing appliances that reflect this usage such as an ice maker or a wine fridge.
Who uses the kitchen is important to consider as well. This will help create an efficient workflow in a home where multiple people may want to cook different meals in the kitchen at the same time without getting in each other's way.
5. Add a Sink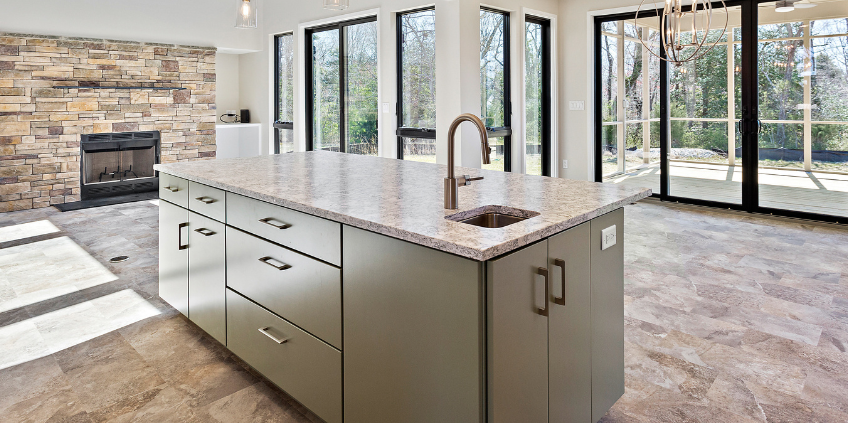 While we are talking about appliances, let's include the sink. Regardless of location, the sink is an essential part of any kitchen. Whether it is locating the main kitchen sink on the island, or adding a second, smaller prep or bar sink, having a sink on your kitchen island gives you an extra place to prep food, wash dishes, and even clean up after messy meals. Additionally, it can be a great way to free up space on your main kitchen sink for other tasks or provide another work area for others in the kitchen.
6. Use a Waterfall Edge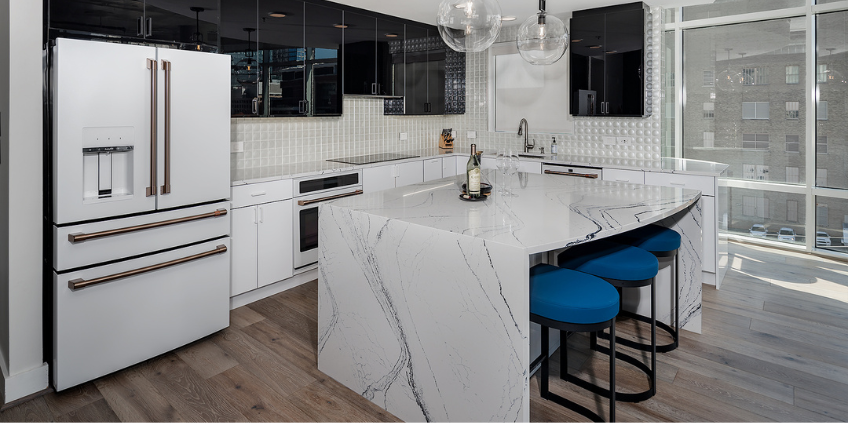 A waterfall edge is simply a type of kitchen countertop option where the edge extends down vertically on the end of any cabinet run, including one or both sides of a kitchen island to create a "waterfall" effect. This creates a seamless look that is not only a beautiful focal point but also completely functional. Waterfall edges are typically easier to clean than other kitchen island edges since there are no nooks or crannies to collect dirt and debris.
If you have a small kitchen, a kitchen island with a waterfall edge will help create the illusion of more space. The uninterrupted line of the countertop can make your kitchen appear larger and more open. Waterfall edges are typically made from quartz, marble, or granite, but can also be created with other materials such as wood or glass.
7. Add Storage Options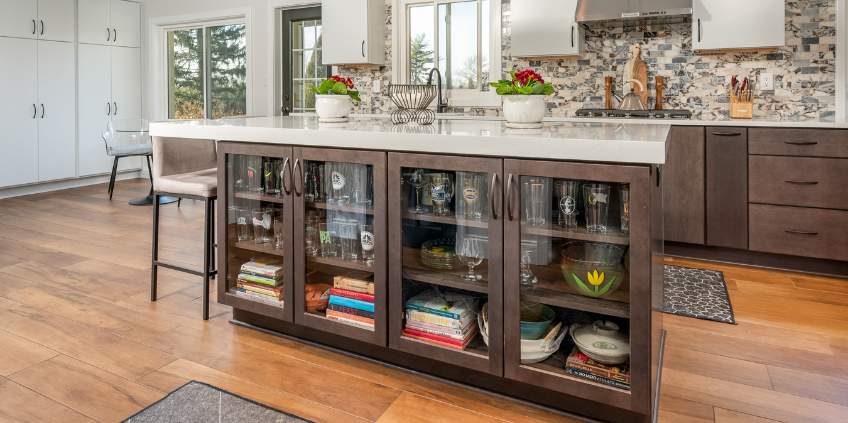 A kitchen island is a great way to add or create extra storage in your kitchen. When designing your island be sure to consider cabinets, drawers, shelves, and cabinet accessories. This will give you ample storage options, from cookware and dishware to spices and baking supplies that help you create your culinary masterpieces. Storage options in your kitchen island will transform your entire kitchen into a more efficient, organized space.
8. Beautify with Greenery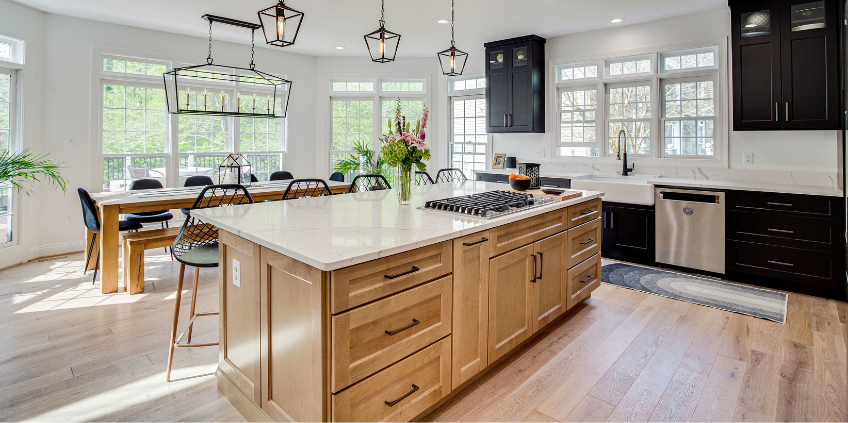 Greenery can take your kitchen island to the next level. Adding a few potted plants or even a small herb garden can give your island a fresh, natural look. Herbal plants are always well suited for kitchens, as they are often used in cooking. Some popular options include rosemary, sage, oregano, and thyme. Not only will plants add visual interest to your kitchen island, but they can also help purify the air and provide a pleasant scent. If you do not have much room for these items on the island surface, you can also try hanging some pots from the ceiling or using an attractive plant stand.
9. Go for a Furniture Look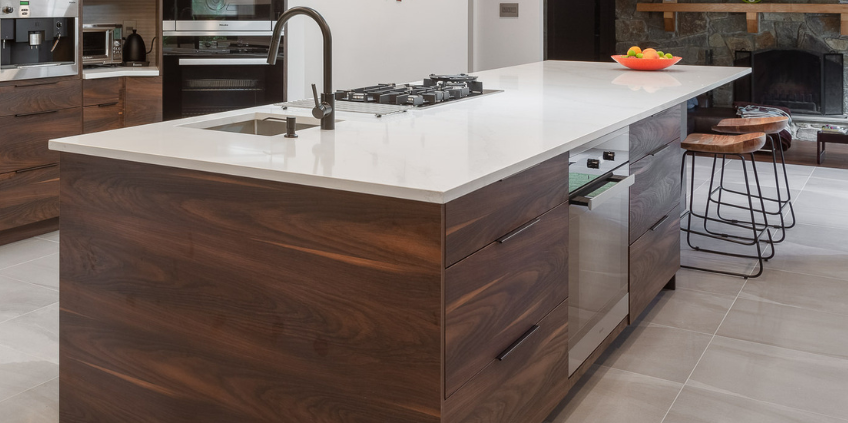 One of the latest trends in kitchen island design is to create more of a furniture look. Often referred to as a floating effect, it offers more than just visual appeal. A floating island also has functional advantages. It creates the feel of furniture and in some cases, more space by making the kitchen island appear to float with open space underneath. Using furniture-type accessories that match your cabinet finish as the "legs" helps to achieve the furniture piece effect with your kitchen island design. Another idea is to use open shelving beneath your kitchen island. This allows light to pass through, giving the illusion that the island is floating.
10. Show off with Statement Lighting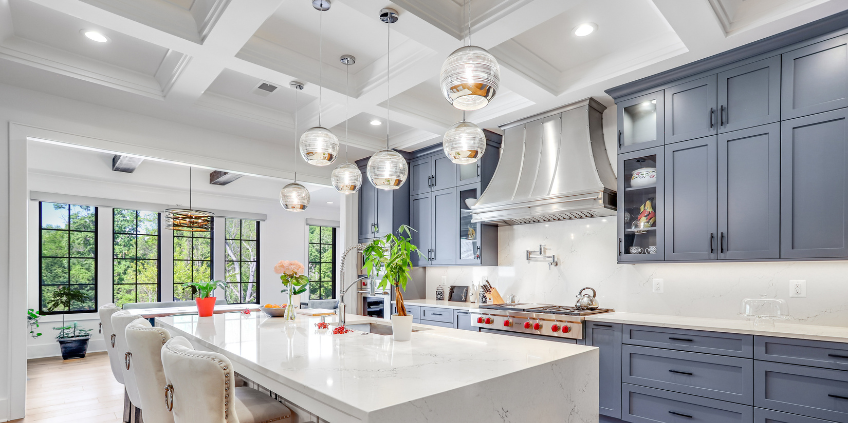 When it comes to stepping up your kitchen island design, statement lighting never goes wrong. A very popular choice is always pendant lighting. Pendant lights come in all shapes, sizes, colors, and designs. If you have a large island, you can go for a bold look with multiple pendants. If you want something more understated, you can choose a single pendant with an interesting shape or material. You can also use lighting to create different zones on your island. For example, you could put task lighting over the stove area and use pendants or sconces to illuminate the rest of your kitchen island. Not only will this help you to see what you are doing when cooking, but it will also add depth and interest to your kitchen island design.
11. Consider a Mobile Island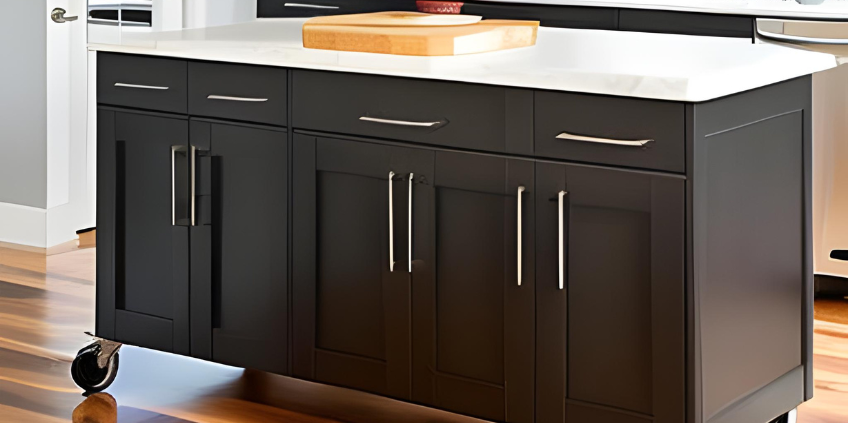 Desperate for a kitchen island but really do not have the space? Mobile kitchen islands are an option because they can be easily moved around the kitchen. This makes them perfect for small kitchens where space is limited. Just roll them away when you need extra space. They also offer the flexibility to change the layout of your kitchen, which can be helpful when entertaining large groups or even just having a few friends over.
12. Get Creative with Butcher Block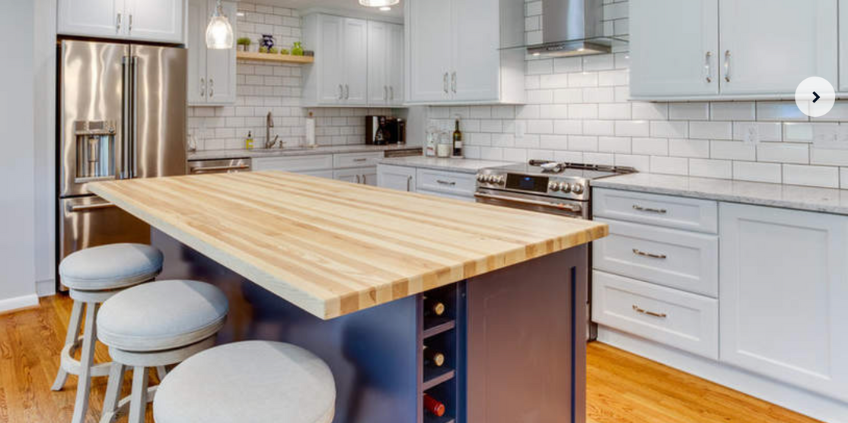 Butcher block is a hardwood typically used for cutting boards and countertops. It is made from thick cuts of wood, typically held together with adhesives or metal fasteners.
The butcher block kitchen island is a popular design element for many reasons. For one, it adds a distinct and warm, rustic feel to any kitchen giving your space a traditional, warm, natural look. Perhaps the most compelling reason to choose a butcher block island is its durability. While they will stand up to the wear and tear of everyday use, they will show that wear as well if you use them as a true cutting or food prep surface.
To care for, all you have to do is wipe them down with a damp cloth and mineral oil to keep them looking like new. While the natural color of maple is a popular choice, you can also consider more exotic woods or even a stain for your butcher block to either match your existing cabinetry or create a contrast.
13. Design with Work in Mind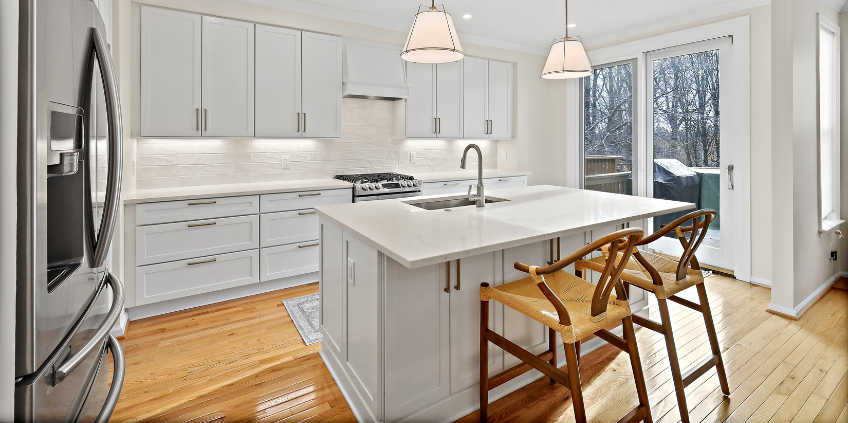 Per National Kitchen & Bath Association guidelines, 36" is all you need to create a basic kitchen island workspace that allows for food and other prep activities.
Size matters if your kitchen island is going to be your cooking center. You must have enough space for your cooking appliance as well as countertop workspace (sides AND behind) and storage (pots, pans & cooking utensils).
14. Design with Comfort in Mind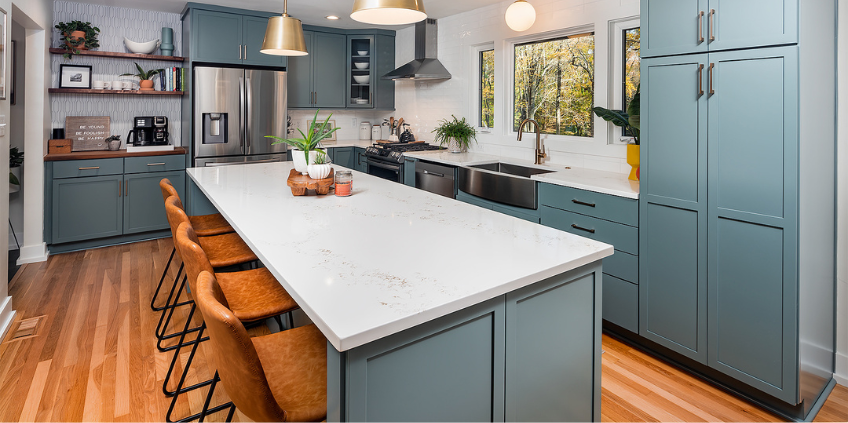 Do you envision a kitchen island for dining and gathering? By allowing a minimum of 24" of space per person, your kitchen island can be a cozy grouping of family and friends. Knee space will vary depending on chair height from 18-19" for standard height chairs (can accommodate wheels chairs too as needed) to 12" for bar stools and higher seating.
If you plan to use your island for dining and gathering, make a statement in style, color, and more. Whether it is furniture-looking pieces, detailed moldings, and panels, varying countertops heights, open shelving, or other design elements, your kitchen island can be the centerpiece of your kitchen.
15. Keep the Work Triangle in Mind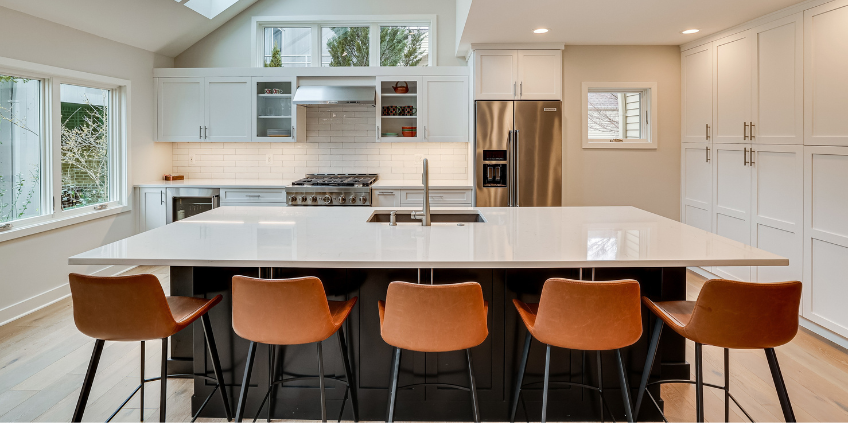 Never forget the all-important kitchen work triangle. Those are the functional lines thoughtfully designed to connect the refrigerator to the cooktop to the sink, all in a triangle. These are the most important parts of your kitchen, where you will be moving through, using, and working at most often.
When you are adding a kitchen island to your design, you will want to respect the kitchen work triangle so that your workflow does not get interrupted. No point of the triangle should cut through the kitchen island by more than a foot, meaning you will want to allow for a foot of space on all sides of the kitchen triangle around your island.
16. Choose Your Island Countertop Carefully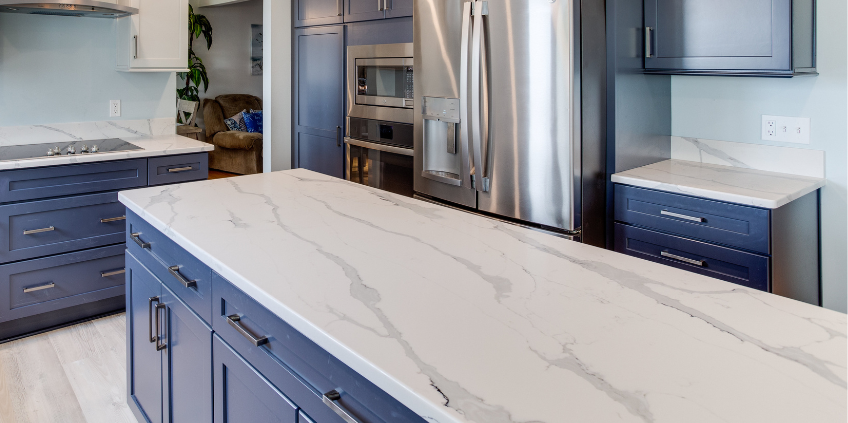 The material for your kitchen island is one of the most important decisions that you can make. If your island is in the center of the kitchen, it is often going to be one of the focal pieces of the entire room. You should be thinking about the look as well as your needs for the kitchen counter. Maybe you are chopping up a lot of food and want to go the butcher block route. Or maybe you cook with pans often and need to cool off your pans, so you are going to opt for something that can better handle the heat (with a trivet of course!). At the same time, materials like granite, recycled glass, and marble add a visual appeal all their own. Ask your designer what they think the best decision is overall for your kitchen island materials.
17. Pull-Out Trash Bins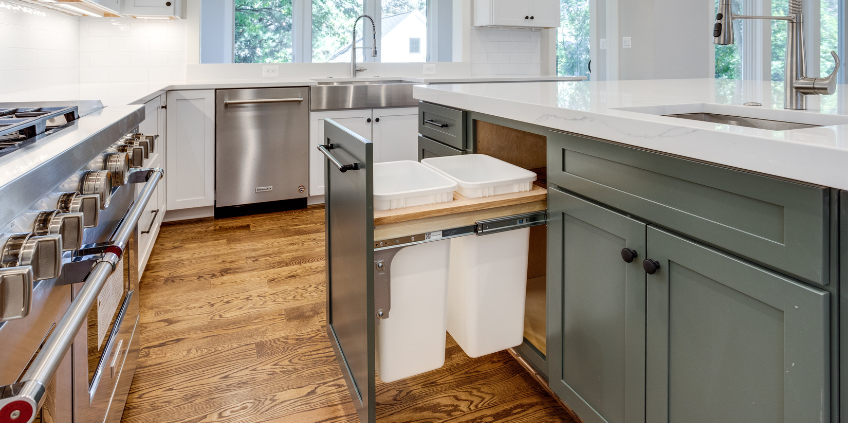 We don't want to see it, so when it comes to concealing your trash (or recycling), the kitchen island can be the perfect destination. With the kitchen island typically in close proximity to the sink and/or main food prep area, a well-thought-out and placed pull-out trash and recycling bin can keep your island and your kitchen clean and organized.
Get Started With Your Kitchen Island Design
There you have it! Some kitchen island design ideas and inspiration to help you create the perfect kitchen island for your kitchen space. Whether it is extra counter space, a breakfast bar, or storage options that interest you the most as an addition to your kitchen island you can take a pick from the designs in our gallery. Reico Kitchen & Bath is an industry leader in kitchen improvement who can help you create the perfect kitchen island. Our expert team is readily available to assist you with your kitchen island project and work with you one-on-one from planning stage to installation and completion. Contact us today!