A kitchen island can be exceptionally versatile and practical in a number of ways, making it an important consideration in the design process for your kitchen remodel. A kitchen island can provide you with extra prep space, storage, and/or that seating you have always needed. It can also be a focal point, adding a unique style and interest to the entire kitchen space. So it should come as no surprise that many of the clients Reico Kitchen & Bath works with are looking at kitchen island design ideas for ways to make their kitchens more functional and beautiful.
In this blog post, we will be exploring the different types of kitchen islands, evaluating the pros and cons, and explaining the important factors that you must keep in mind when it is time to finally get yours. Kitchen islands come in a range of types and each type befits a specific kind of kitchen space, making it important that you get to know the various types before making a purchase. There is a lot for you to learn, all of which will help you make a decision that is best for your kitchen space and your kitchen routines.
Types of Kitchen Islands
Let us start with the different types of kitchen island designs out there today. Here is a look at each of them below:
Galley Kitchen Island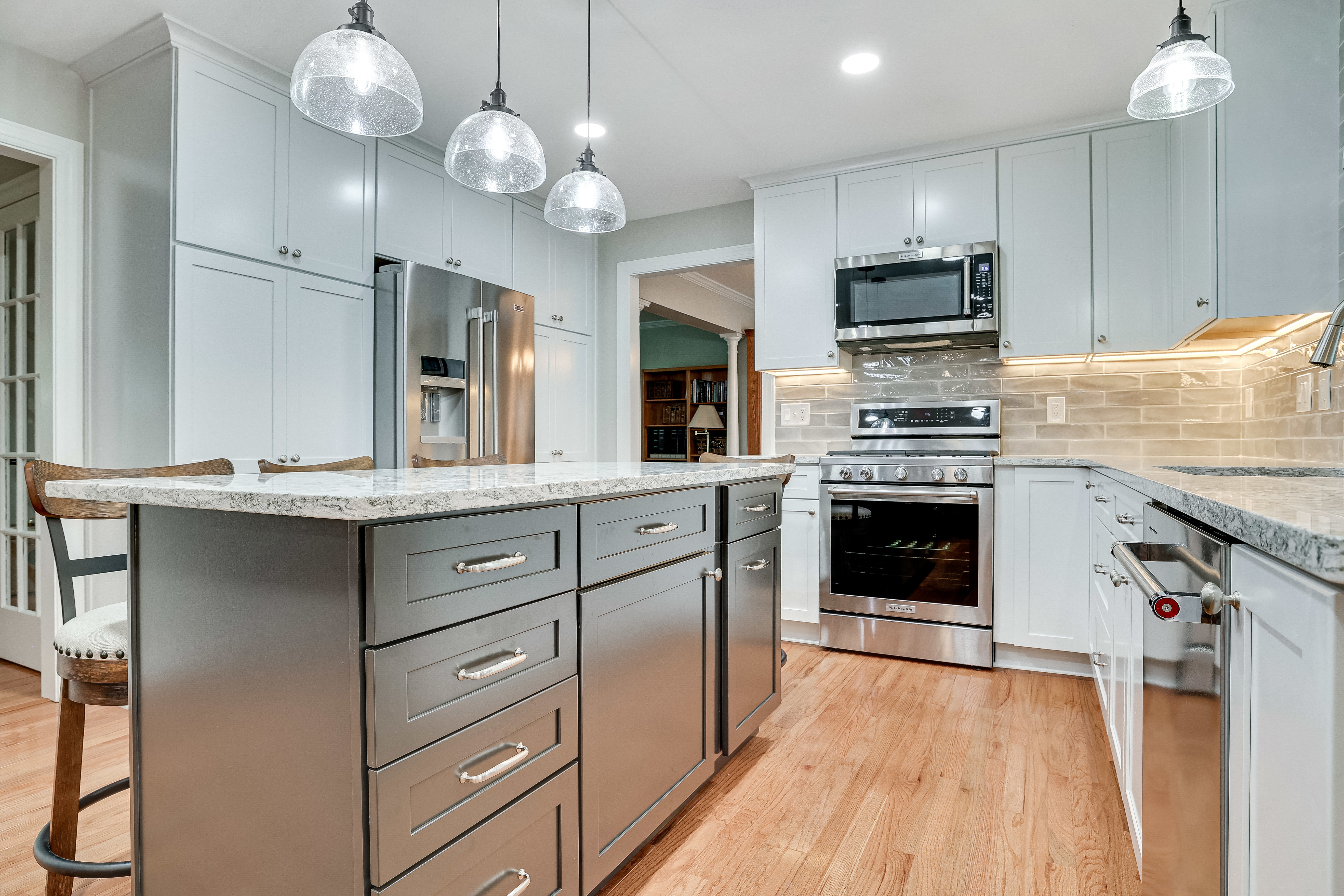 If you are looking for a kitchen island design that will work in just about any kitchen size and layout, then a galley kitchen island is a perfect option. The galley kitchen island is usually a straight run that, and can be designed as long or as short as your kitchen space allows. This simple, straight design offers options and flexibility for kitchens large and small. Adding even a small galley kitchen island offers benefits of storage, food prep, and more. In a small kitchen design, this simple, no-frills kitchen island is all about function and can be easily customized to fit your specific needs. A galley island is not always just a base cabinet. It can be in the form of open shelves or even a built-in wine rack, while also using the surface as an extra prep space.
Pros
Traditional straight run works most any kitchen, especially small kitchens

Flexible design options to meet specific needs

Perfect for bar-style island set-up

Opens up your kitchen and makes it feel more spacious
Cons
Lacks enough seating depending on island size or family size

Less appealing to those who already have this island design type

Not always enough space when appliances, second sink, and/or other significant island design features desired
L-Shaped Kitchen Island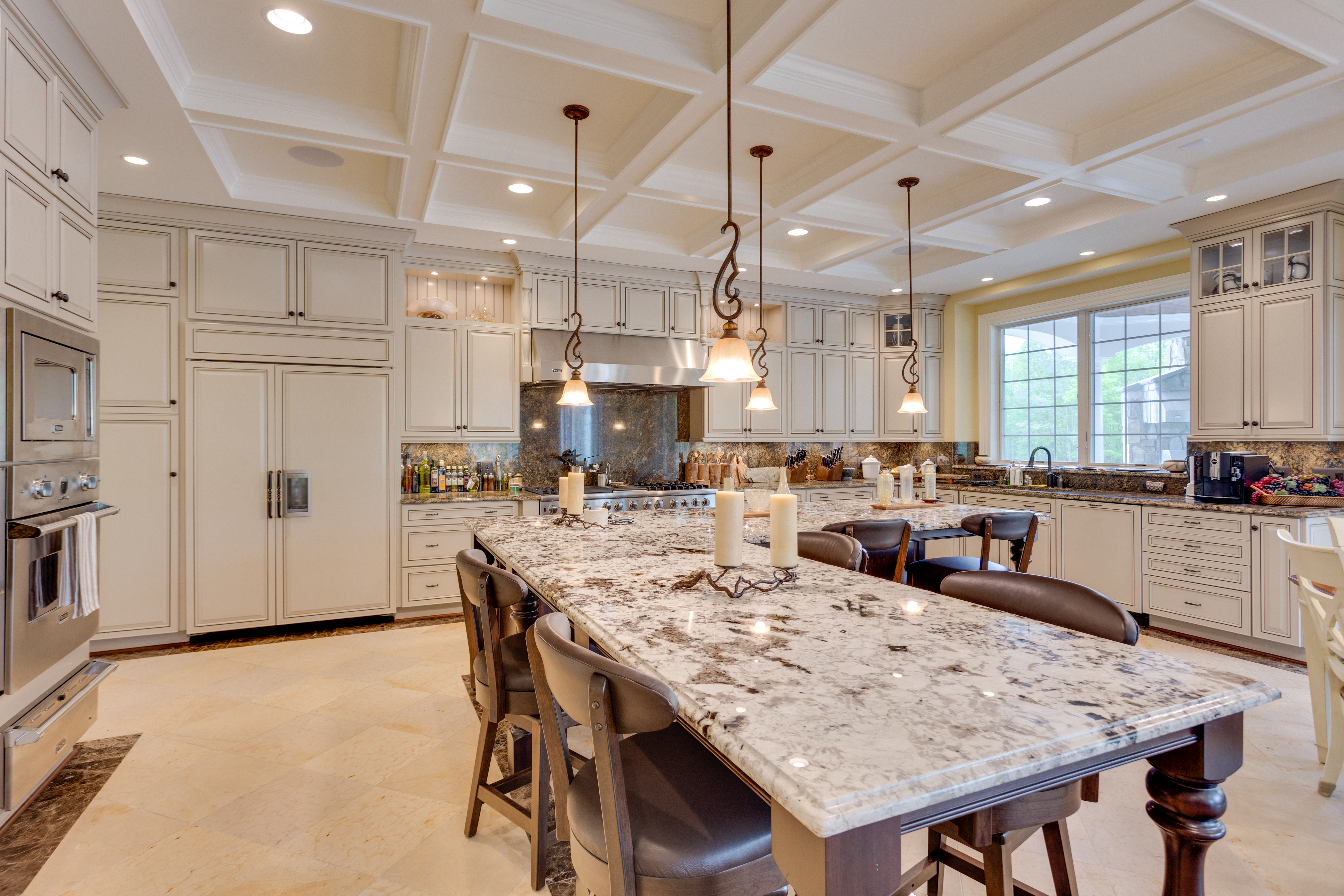 This type of kitchen island is made by adding a 90-degree angle into the design, creating an L-shape. There is something appealing about L-shaped kitchen islands — a multifunctional design that almost effortlessly adds interest to the entire kitchen. As L-shaped islands are typically larger in size, the design often includes multiple features such as sinks, range hoods, storage, extra counter space, dining area, and dishwashers, making them extremely functional. An L-shaped kitchen island can be ideal for cooking routines if you do a lot of cooking or entertaining, offering plenty of room to prepare food, serve drinks, and set out buffet items while family or guests have plenty of room to eat and socialize.
Pros
Can be a great focal point for your kitchen

Offers a large countertop to spread out and have everything within reach while cooking

Creates ample workspace for multiple people working in the kitchen at the same time

Provide cabinet and drawer storage to keep your countertops and kitchen uncluttered
Cons
More expensive than a galley kitchen island

Potential issues with traffic flow if placed too close to kitchen work triangle space

Can take up too much space and feel cramped in a small kitchen

L-shape creates nooks and crannies that trap dirt and dust to be cleaned
U-Shaped Kitchen Island
U-Shaped kitchen islands are a popular consideration for homeowners who have a very large kitchen space. A U-shaped kitchen island offers tremendous versatility and is often the kitchen focal point by the nature of its size. U-Shaped kitchen islands typically include appliances in their design, such as a cooktop, sink, dishwasher, or all of them. The design provides plenty of room for everything you want from a kitchen island, from storage and food prep to cooking and even dining.
Pros
Ample workspace

Ability to dedicate different zones for different tasks

Adds a luxe feel to your kitchen design and your home

Sufficient space for two (or more) people to work side-by-side, making it ideal for couples who like to cook together

Adequate space for multiple appliances such as the dishwasher, microwave, beverage fridge, or stovetop and sink

Efficient workflow — multiple essential items within close reach as you work at the kitchen island
Cons
More expensive than other options as they require more materials and labor to construct

Requires frequent cleaning due to size, work tasks, and placement of appliances

Not a smart design option for small kitchens — cramped with little room to move around
Mobile or Rolling Kitchen Islands
A Mobile or rolling kitchen island offers a convenient and versatile option. It has casters or wheels and can be easily moved in and out, or around the kitchen, depending on your needs. When you have more traffic in your kitchen, you can roll the island out of the way to create more space. If you are short on prep space, you can roll it in next to the stove or sink.
Pros
Smaller and more streamlined than their stationary counterparts, making them a great choice for smaller kitchens

Can be used as a serving cart when you are entertaining

Flexibility to change the layout of your kitchen on a whim

Provides additional storage, which can be extremely helpful in a small kitchen
Cons
Can be cumbersome to move around at times

Typically made from lighter-weight materials for mobility, they are not as sturdy as their stationary counterparts and may be more susceptible to wobbling or tipping

The areas where wheels meet the frame can collect dust, dirt, and food, which can move around and be difficult to clean in some cases
Furniture-Style Kitchen Island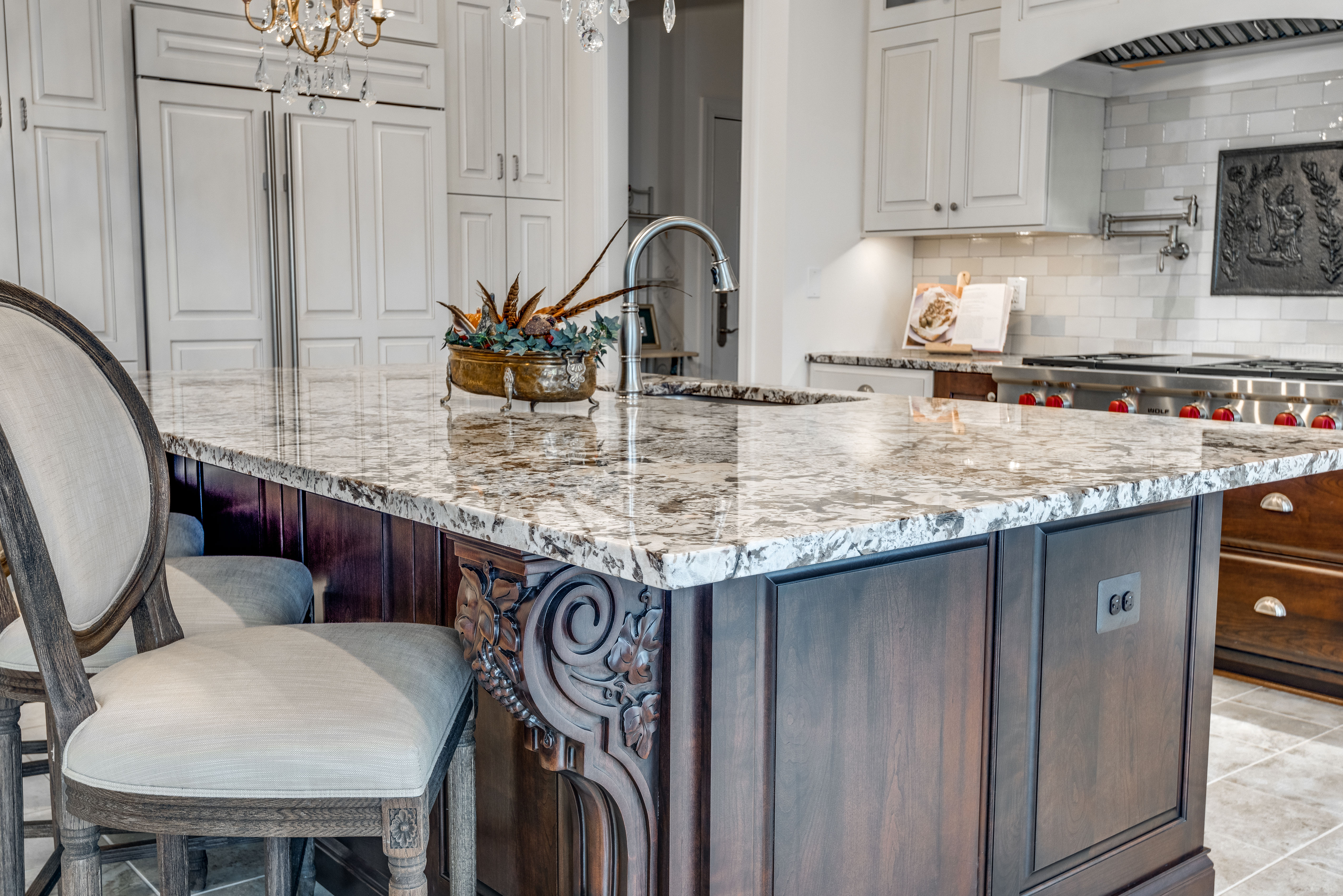 For a more unique kitchen island look and feel, many homeowners are opting to add a furniture-style feel to their kitchen islands. It is easy to see why. Furniture-style islands focus on aesthetics and form. They feature details such as hand-carved corbels, decorative toe base molding, or multi-toned finishes, often working best in a galley-style kitchen island design. In addition to their one-of-a-kind look, furniture-style kitchen islands offer the added storage any kitchen island provides. The result? A unique focal point that provides the same functions as your standard kitchen island design.
Pros
Is both multi-functional and decorative in the kitchen — offering the best of both worlds

Works best as a galley-style kitchen island, making it an option in both large and smaller kitchens

Can be an eye-catching focal point in your kitchen
Cons
The more the details, the more crevices, and nooks to trap dirt and grime and to keep clean

Design details and required installation can add cost
Table-Style Kitchen Island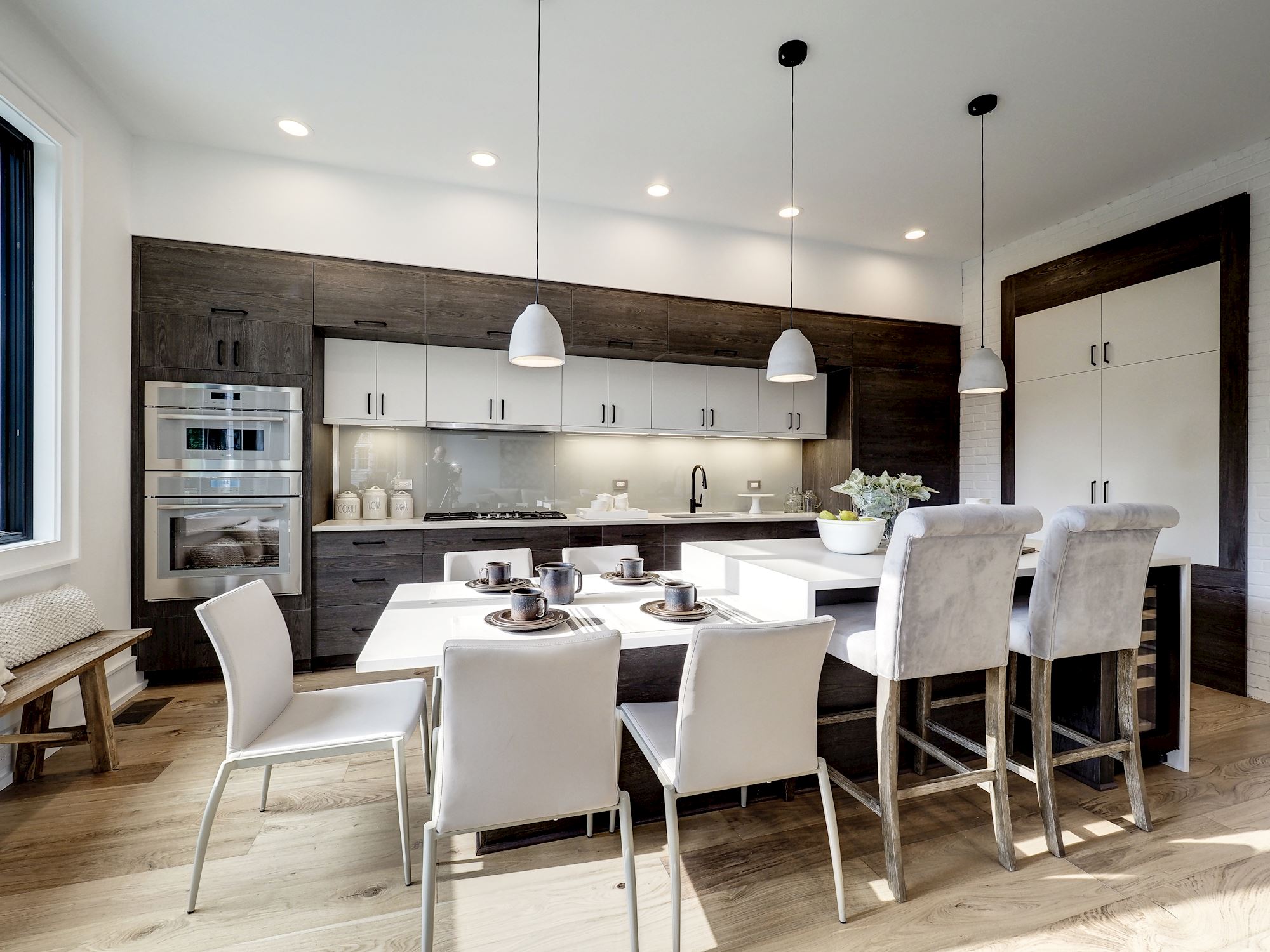 Unlike other types of kitchen islands, table islands incorporate legs and a flat top like a typical table, making them the perfect multifunctional surface to work, eat and gather. It is typically an extension of your kitchen island design that provides you with a lot of versatility. You can be preparing ingredients or cooking a meal in one area while still having a convenient place for others to eat, do homework or entertain company at.
Pros
Size can be customized to your needs and kitchen space

Usually less expensive than other types of kitchen island

Can serve as an everyday kitchen table or dining table if you do not have a formal dining room

Easier to install, since the table portion typically does not include any cabinets
Cons
More work to keep the island clean if your primary easing space

Less storage and counter space than standard islands
Bi-level Kitchen Islands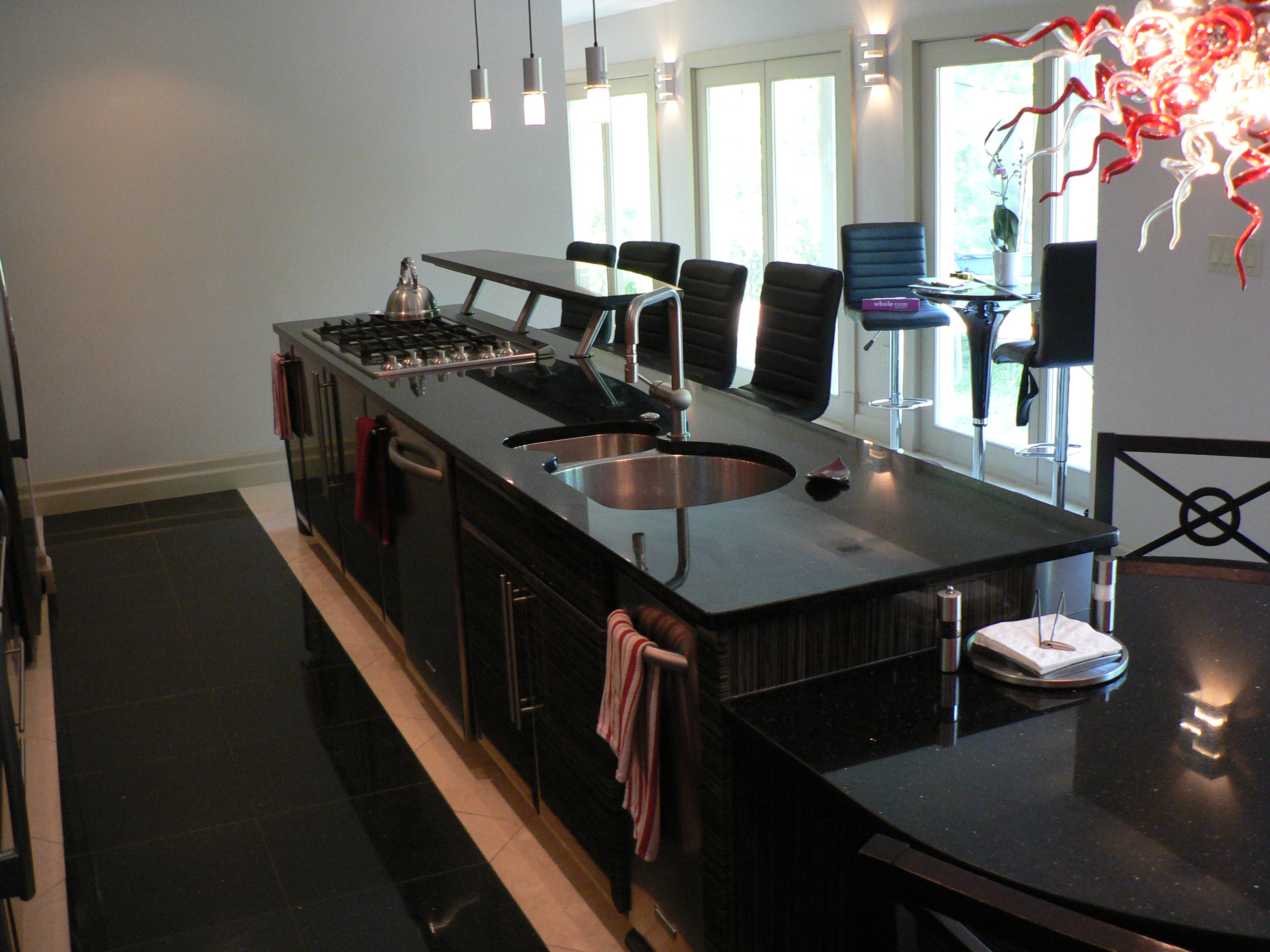 A bi-level kitchen island increases the functional or usable space of any standard kitchen island. By offering two levels of counter spaces, you can get really creative with your kitchen layout and design while also getting greater functionality. The lower level may be dedicated to food preparation, while the upper level can be used for dining or entertaining. The possibilities are endless.
Pros
Adds visual appeal and interest to the overall design of your kitchen

Can be an option for smaller kitchens, if designed in the proper size

Additional space for storage at the second height

Efficient design can allow multiple persons to work on the island at the same time
Cons
Can be more difficult to access items when you have storage on both sides of the kitchen island

The height difference of all kitchen users at both levels must be considered to ensure everyone can use it comfortably

Can be more expensive than the standard single-level kitchen island
Considerations for selecting your Kitchen Island
When it comes to your own kitchen island design, there is no one-type-fits-all solution. When planning a kitchen remodel, one of the first things you will need to do with your Reico Kitchen & Bath kitchen designer is to create a design that meets your specific needs. With so many options to choose from, here are critical factors that you must keep in mind to help you make the best decision for your kitchen island and your entire kitchen:
Kitchen size
If you have a large kitchen, you may have the liberty to consider any of the kitchen island design options. However, if your kitchen is on the smaller side, you will want to opt for a more compact kitchen island design, be it stationary or one that can be rolled out of the way when not in use. In some spaces, a compact bi-level kitchen island can provide you with more counter space while only occupying a small area of the kitchen.
Purpose/Activities
Be clear on how you intend to use your kitchen island and what features will be most useful to you. If you entertain often, you want a kitchen island that offers you the space you need so you can accomplish the multiple tasks of food preparation while guests or family members are nearby.
Personal style
Are you looking for a more traditional look for the kitchen? If your answer is yes, a furniture-style kitchen island provides an interesting, warm and elegant statement to your kitchen design. Alternatively, if your preference is a more contemporary or transitional style, you may want to go for an all-white L-shaped island with quartz countertops.
Foot Traffic Level
Do you have a large family? You do not want to be constantly dodging elbows and jostling for counter space while you are cooking. For this reason, many homeowners opt for an L-shaped island. It can keep unnecessary traffic away, while at the same time allowing for easier movement around the prep area with the additional space created by the L-shape.
Budget
The budget will depend on the cost of materials you choose, labor costs, the layout and size of the island along with any special features you add. In addition, the theme and style of the design matter. Will it match the rest of your kitchen, or would you prefer a contrasting style? You will need to discuss all these details with your designer, which will provide clarity on the budget for your kitchen island and ultimately your entire kitchen remodel.
Start The Journey Towards Your New Kitchen
Whether it is extra storage, cooktop, or prep space, let the experience of Reico Kitchen & Bath guide you through your kitchen project. We will expertly guide you through the entire process, including creating the kitchen island you want. From product and design to construction, installation, and final walk-through, our job is to ensure that you love the results. You can go through our gallery to get a glimpse of the beautiful kitchens we have delivered to our clients. It is what we do and have been doing since 1952. Get started today!