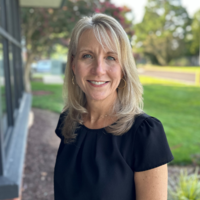 Debbie Williams
Regional Manager
Raleigh, NC
With over 20 years of experience in the kitchen & bath industry, Debbie Williams brings a wealth of knowledge, experience and passion to her roles as manager and designer for Reico Kitchen & Bath. Debbie has a degree in Interior Design from the University of Delaware. She has worked in various capacities in the interior design and building industries and has extensive experience in construction, space planning, product specification and interior design. She headed up and developed Reico's High End Design Team; Debbie draws on all of her experience to put together the entire project, guiding her clients through the process from initial consultation through a complete finished project. In addition to her design experience, Debbie has developed and facilitated training classes for architects, designers and contractors as well as Reico's own employees.
Debbie enjoys the collaborative efforts of working with clients to create kitchen and bath projects that are both functional and beautiful. Debbie is particularly passionate about Universal Design; designing spaces that are accessible, functional and easy to use for people of all ages and abilities. She is currently receiving additional professional accreditation as a Universal Design Certified Remodeler.
Debbie is also a founding board member of the Greater Baltimore NARI (National Association of the Remodeling Industry), and is currently President of the chapter after stints as both the Events Chair and Vice President.
Find out more about Debbie and her thoughts on working with a designer below:
Request Consultation
Debbie Williams
dwilliams@reico.com
9195786658
2728 Capital Blvd
Raleigh, NC 27604

Request Consultation