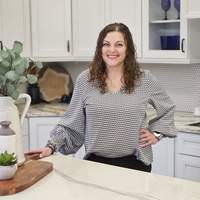 Lisa Gebhart
Office Manager
King Of Prussia, PA
Lisa Gebhart has been designing and selling kitchens and baths with Reico since September 2008. She received a degree in Residential Planning from the online division of The Art Institute of Pittsburgh.
As a working mom, Lisa realizes how important every dollar is. She understands that clients not only want their space to be aesthetically pleasing, but functional too. Lisa enjoys guiding customers to their dream space by listening to their wants and needs while keeping their budget in mind.
Lisa resides in Downingtown, Pennsylvania with her husband, Kevin, and her two children, Zoe and Dylan. Outside of work, Lisa enjoys practicing and teaching yoga, cooking, drinking wine, listening to music, and spending time with her family.
Request Consultation
Lisa Gebhart
lgebhart@reico.com
6103826306
3602 Horizon Drive
King Of Prussia, PA 19406

Request Consultation