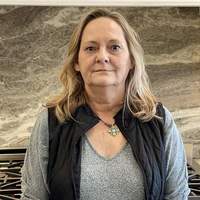 Wendy Lial
Key Business Manager
Chantilly, VA
Drawing is second nature to Wendy Lial, having come from a family who excelled in sketching and painting and always challenged her to work harder at it.  Earning her Associates Degree in Architectural Design in 1995, Wendy Lial put her drawing and degree immediately to work in the commercial steel and concrete sector.  
Wendy moved to residential and small commercial 1999, developing an interest in Interior Design.  This led to some local course work at NVCC that allowed her to develop her skills even further, particularly during the 2008 recession.  This allowed Wendy to experience other aspects of the industry, including tile, cabinetry and contracting, where she was able to develop and hone her skills and expertise.   
While she enjoys the architectural elements of any project, a passion for kitchen and baths led her to Reico Kitchen & Bath.  Collaborating with clients, creating designs in real time and seeing it move from paper to finished product creates satisfaction that Wendy cannot help but enjoy.  It is her goal to create an experience her clients feel was totally worth it.
Request Consultation
Wendy Lial
WLial@reico.com
703 245-0243
3856 Dulles South Court
Suite K
Chantilly, VA 20151

Request Consultation