Bathroom design is serious business these days. Most of us are looking to do more than just "update" a bathroom. Instead, we want to transform the bathroom space into something soothing on every level, from design and function to comfort and rejuvenation. So, what's trending in bathroom design to make that happen? Here are 5 popular categories and the top trend for each:
Trending in Style: Transitional – There is no place in the house we want cleaner than our bathrooms (sorry kitchen). With its' clean, simple lines a transitional style bathroom design can easily fit in with almost every style house.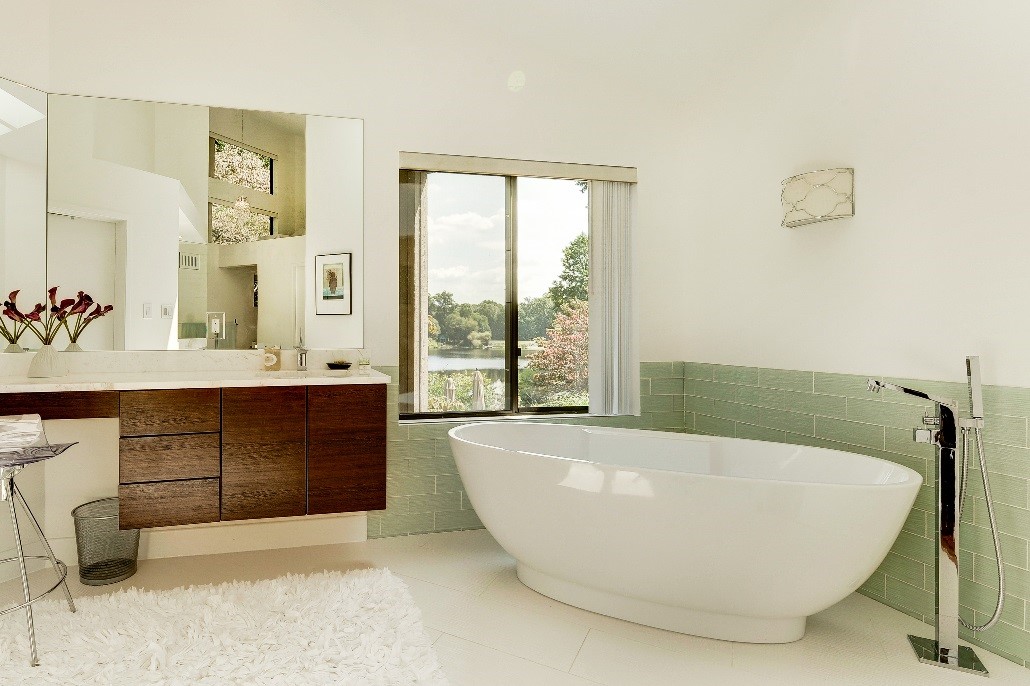 Trending in Color: Neutral – When it comes to color in the bathroom, you can never underestimate the power of neutral colors. From traditional beiges to whites and grays, neutral colors can make the bathroom feel more roomy and open, and in some cases help to further brighten up the space.
Trending in Faucet finish: Polished Chrome – There are many exciting finish choices when it comes to bathroom fixtures but polished chrome still leads the way in bathroom design. It's crisp, clean finish works well in many bathroom designs and rarely if ever looks out of style.
Trending in Design: Open & Floating – Today's bathroom layouts are evolving with more open space and things for the eyes to be seen and drawn to. From floating vanities and toilets to open shelving, bathroom designs are opening up space…and showing it to you.
Trending in Organization: Built in Storage – And while space is opening up in the bathroom, at the same time we are considering the space we do have and creating the proper storage for. From roll out shelves and door caddies to more bathroom specific items such as built in vanity hampers and cosmetic tray inserts, make sure that your storage space is organized to your satisfaction. Cabinet accessories aren't just for kitchens!
These trends are just the tip of the iceberg when it comes to bathroom design. We could go on and on with heated floors, water conserving toilets and faucets, free-standing tubs and more out there to consider as you start to plan for a bathroom remodeling project. When it's all said and done though, remember the most important trend to consider is you and how you want to use your bathroom. That trend never goes out of style!