Have you been putting off a remodel on your kitchen because you're not sure what the first steps are? Maybe you've been pushing back a makeover so long that your kitchen has started to lean more toward the outdated side.
If that's you, or you just want to give your kitchen a little facelift, then let us help. From big to small, there's a number of ways to spruce up one of the most important areas in your home.
Get a Top Countertop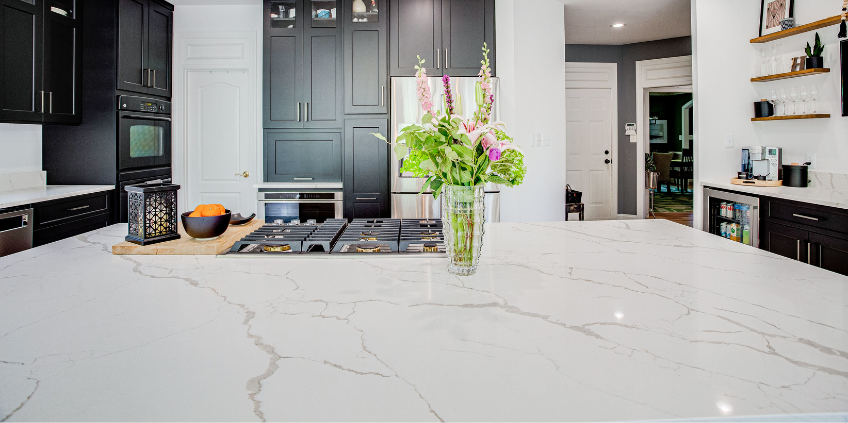 There's nothing worse than old kitchen counters. Scratches, chips, grout stains, faded … ugh. Change the look and feel of your entire kitchen when you decide to get a new countertop. Today's options in quartz and granite not only offer an amazing look but can also be infinitely easier to clean than that old tacky counter you've always wanted to get rid of.
Want to be a little different? Consider marble or a soapstone countertop in your kitchen. Both offer a distinctive look and feel if your budget will allow for it.
Time for Some New Cabinets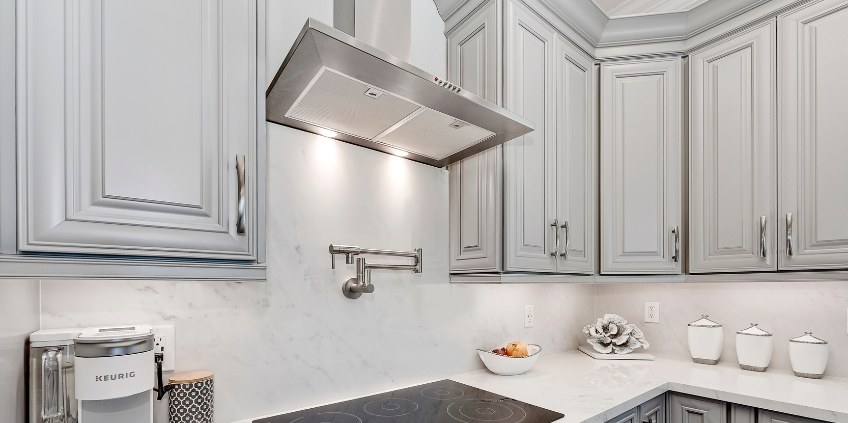 Old, worn cabinets can drag down the look of your kitchen in a huge way. It's about time you did your kitchen a favor and replaced them. The most timeless of all cabinets are shaker cabinets. Shaker cabinets are simple yet durable, and are guaranteed to add value and depth to your kitchen. If your old cabinets were light and faded, also consider choosing a darker wood that matches with the rest of your home, which is coming back into style and tends to look more sophisticated than their lighter cabinet counterparts.
Drawer Pulls and Handles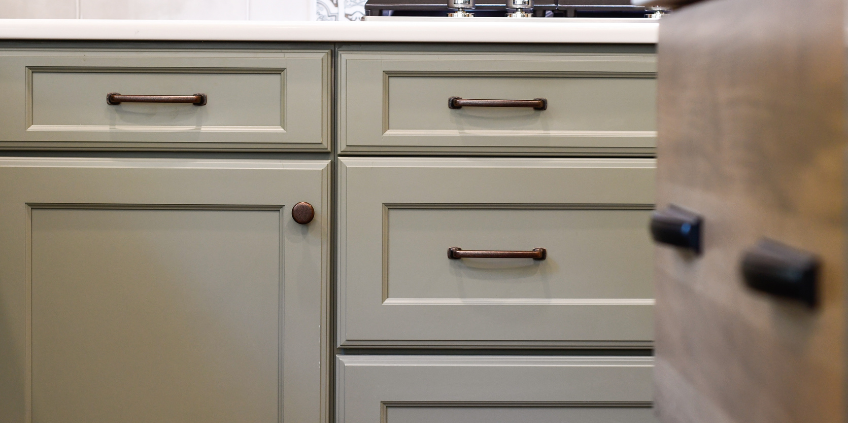 Maybe you can't quite take the plunge and get all new kitchen cabinets. Luckily, there's still hope for making your kitchen look great.
Even though it's a relatively small step, adding cabinet accessories can make a huge difference in your kitchen. Add drawer pulls to drawers that may not have come with them in the first place, or replace old and outdated hardware that may already be existing on your drawers. Adding handles to cabinets creates a classic, finished look for the overall space.
Raise the Bar with Barstools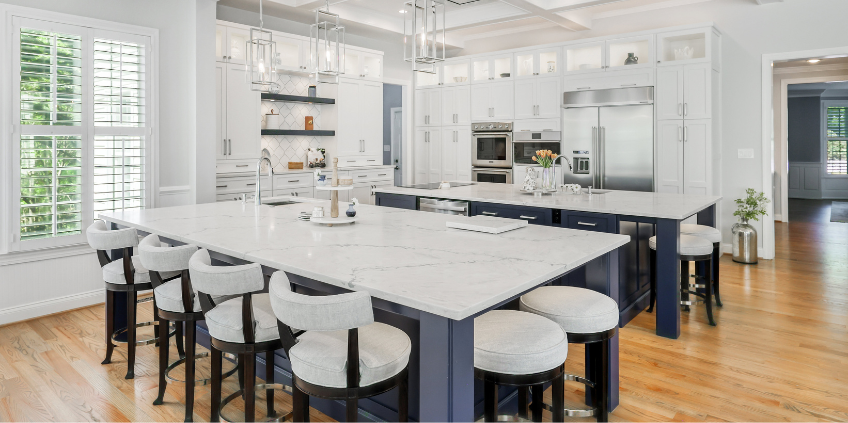 Had the same set of kitchen barstools hanging out in your house for years? It's time for an upgrade. Make a sweeping update to the look of your kitchen and add barstools to your island or peninsula countertop overhand. Wooden stools always help update the vibe of your room, or consider adding chairs with backs for comfort.
A New Sink Goes a Long Way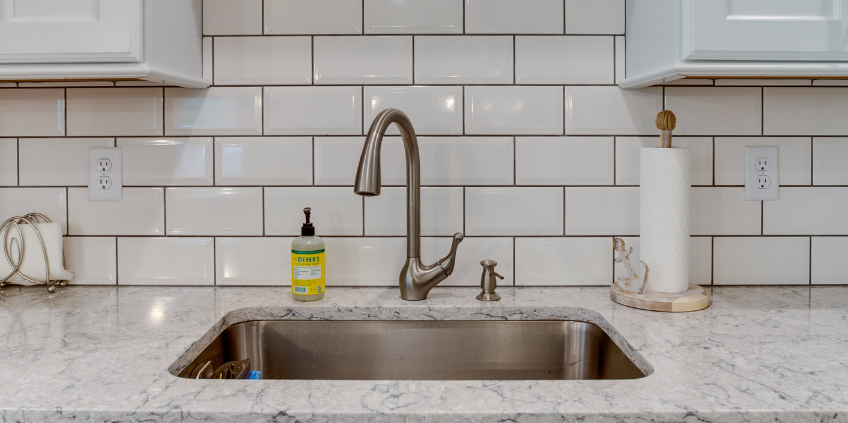 Drippy old sinks and faucets are another thing that can make for a bummer of a kitchen. Farmhouse sinks have risen in popularity lately, largely in part due to their vintage look. Also known as apron sinks, they have a front panel that adds a classic touch to your kitchen. Any new sink addition to your house gives it a fresh feel, but this design in particular gives off an old fashioned, homey vibe. A new faucet can do the same. Replacing a traditional pull out with an arching spout or other more contemporary design or finish can make a real change to the look.
A Splash of Paint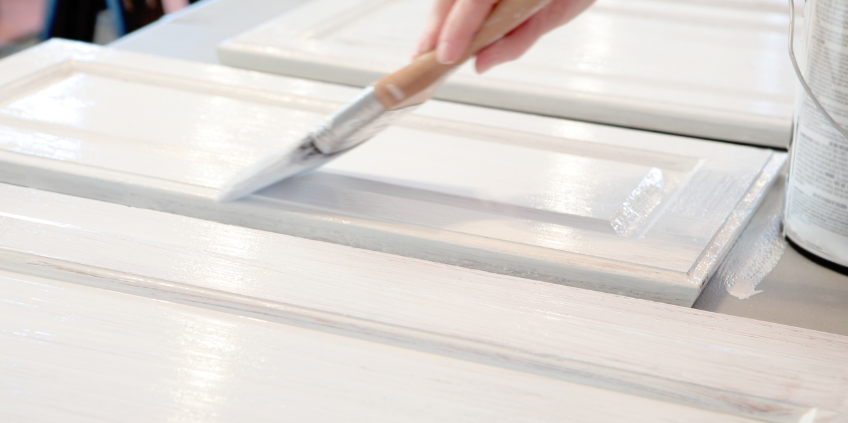 Everyone knows that there's nothing like a coat of paint to get something looking like it's brand new. Maybe your kitchen walls have been white for too long. Decide which color combinations work best in your home, and get painting. If you want a sunny vibe, choose a yellow to adorn your walls. Or tone it down with neutrals to add on to that vintage feel.
Lighting Fixtures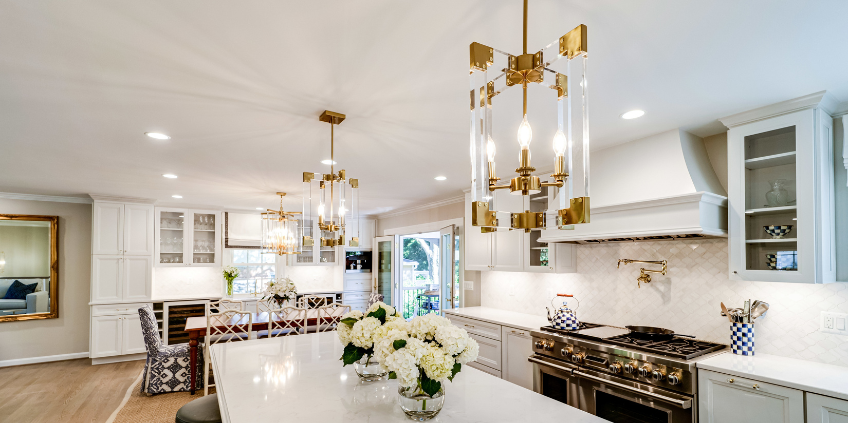 Make your kitchen experience brighter by adding new light fixtures. Old, flickery lights are definitely tacky. New overhead lights with soft lighting or under cabinet lights with improved task lighting create a more productive and enjoyable atmosphere in any kitchen, and you're setting the mood for an overall better kitchen experience.
Delight in White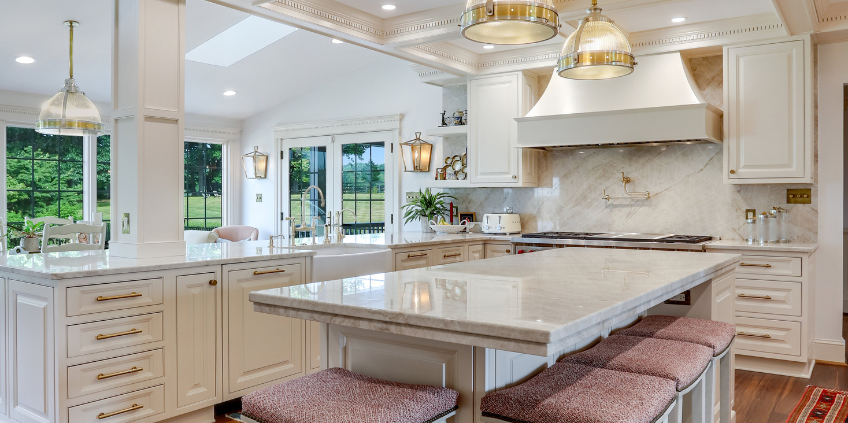 It is hard to go wrong with the color white, and in the kitchen there are so many options and applications to choose from. White cabinets create a clean, timeless look that can accommodate virtually every other color in the kitchen. If the idea of white cabinets is too much, consider other alternatives, such as the classic look of white subway tiles or countertops in Carrera marble. Both can bring the timeless look of white into your kitchen without going too white for the space.
Stainless Steel Appliances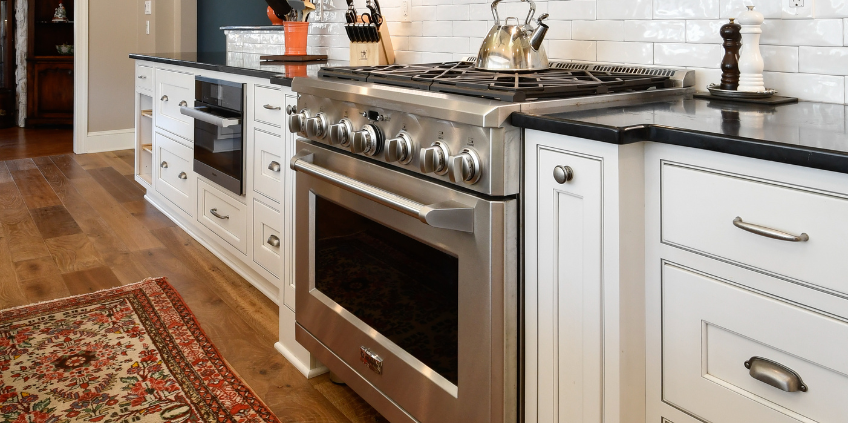 Move over Man of Steel, your power is no match for the timeless look of stainless steel appliances in the kitchen. With the right combination of colors, the cool look of stainless steel can warm up a kitchen space without ever going out of style. Its' signature look and feel will always make it a superhero of timeless kitchen design ideas!
Hardwood Flooring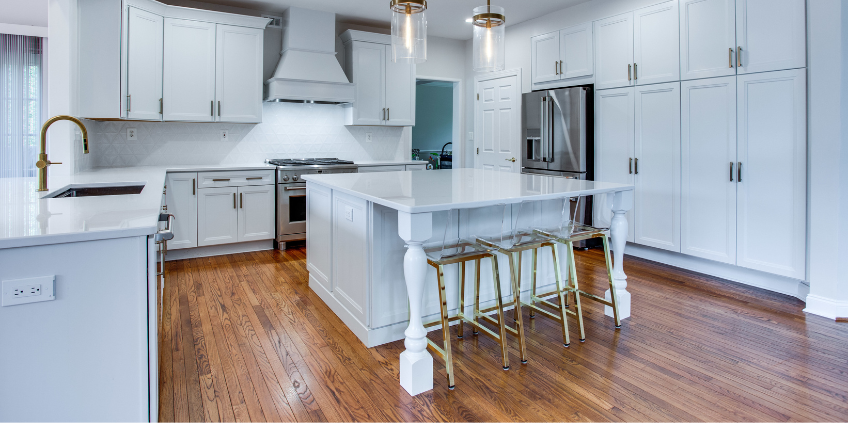 We have a love affair with wood. It's one thing men and women consistently agree on. It's warmth and personality radiates throughout a home, making intimate spaces such as the kitchen the true heart of the home with its' coziness. We also love it because it's tough, it's most always environmentally friendly and it adds character to any space.
Universal Design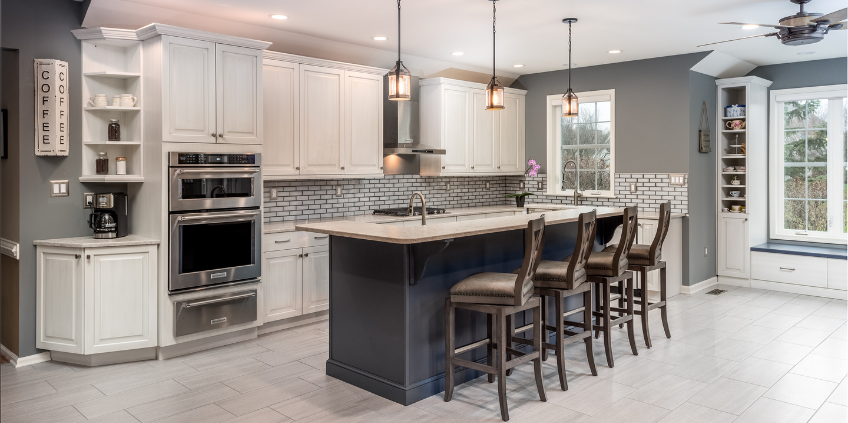 It does not matter if you are young or old, living on your own or in a household with multiple generations. The principles of universal design can benefit the kitchen without ever going out of style. Whether it is handles, touchless faucets, varying countertop heights, raised dishwashers, pull out trays and other cabinet accessories, task lighting or wider clearances in aisles and around islands, incorporating universal design ideas can help make sure your kitchen never goes out of style for you.
Subway Tile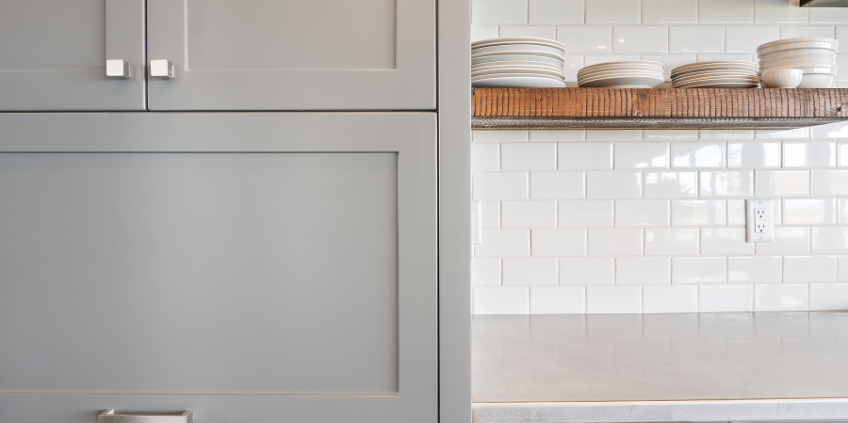 Subway tile has been a constant trend for just about as long as it has been available. For a brief period of time, designers shied away from it because it was, in fact, so popular that they wanted to try out other options. But to no one's surprise, subway tile is now a re-emerging kitchen trend.
Three by six inch subway tiles are considered the standard. However, they are being slightly re-imagined for the 2021 kitchen. Subway tiles can be mixed and matched in the same area, or placed vertically and horizontally in design. They can also be mixed into other shapes, like mosaics or square tiles, or paired up side by side for a more interesting and complex look.
Open Shelving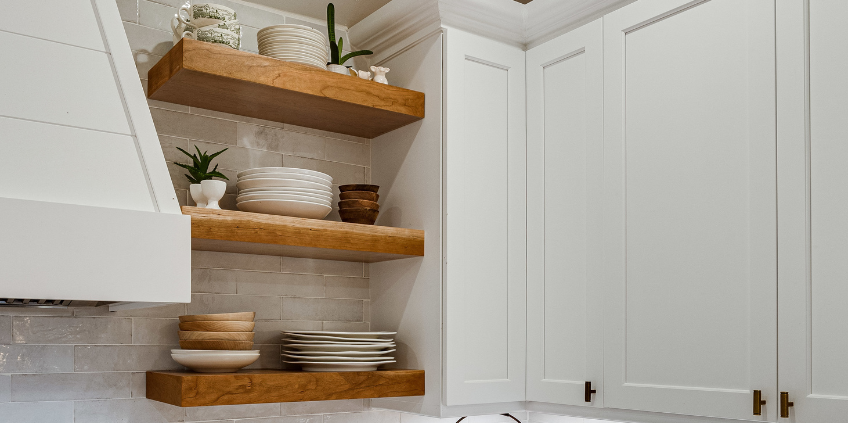 Open shelving is as timeless of a trend as it is a practical one. Open shelves can offer you storage in your kitchen that you might not have thought you had. Because you can install an open shelf virtually anywhere, you create options to add shelves to areas of the walls that might be more bare, or lacking decor.
Particularly for 2021, designers are opting for open shelving, but in a more minimal sense. Instead of a large cluster of shelves, they are sticking to one or two. That means that while you still can use them for storage, you are less likely to fall into the trap of having your area look too cluttered.
Curved Edges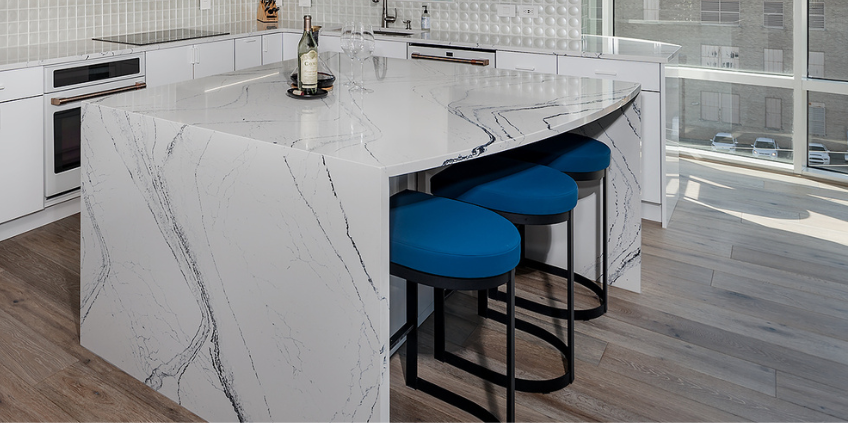 Minimalism has been dominating the scene lately, where clean lines have become the way to go. However, this has not always been the case - curved edges tend to give a softer and more lived-in look to a space, and are a trend that is re-emerging this year.
Tight cabinet or kitchen island corners give way to more round edges that make the area feel more homey. People seem to be seeking more comfort overall with their kitchen renovations as they have been spending more time inside the house. This has given way to more inviting kitchens in general, which is where curved edges come in more warmly than their squared corner alternatives.
Walls With Windows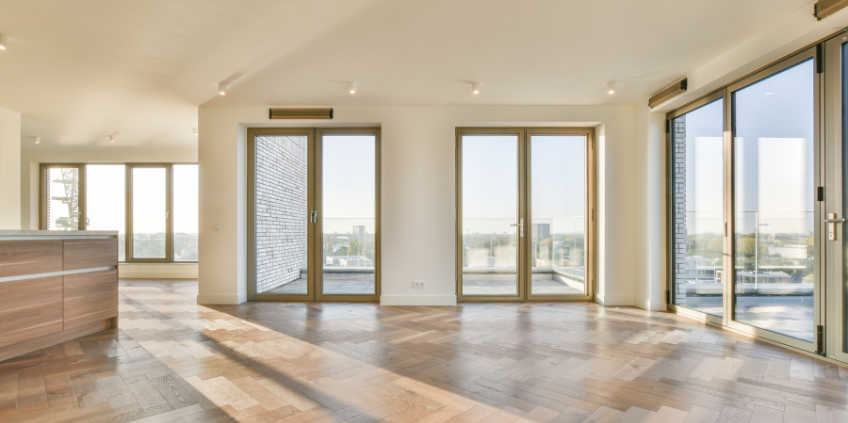 Open concept layouts have definitely been everywhere lately. They help give a place a homey, seamless feel and allow for a large space to entertain guests. However, the recent year has seen little opportunity for entertaining guests. Walls are coming back into style, but not in full force.
The solution falls somewhere in-between. Walls with windows inside of them between rooms offer the best of both worlds. The space feels sectioned off, so that the people in each respective room can get their privacy. However, it still leaves the room open and roomy, not cutting off the area completely.
Darker Wood Tones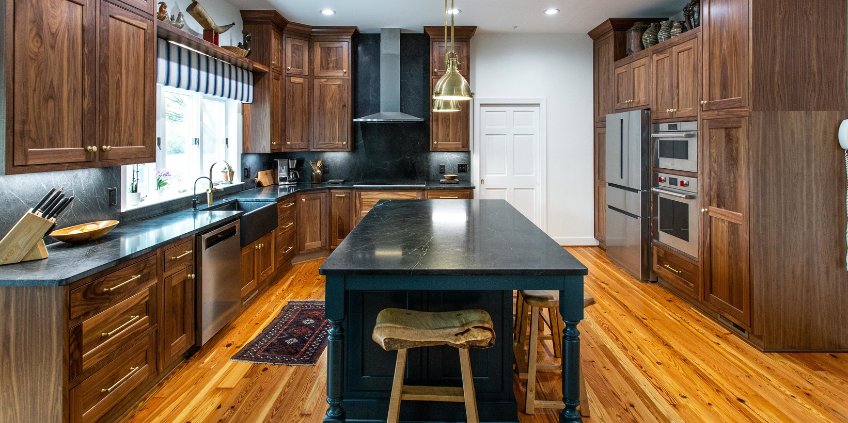 Light wood finishes are never a wrong choice for your kitchen cabinets, floors, or whatever other decorations you want to include. However, mid to dark wood tones are coming back into play.
Natural light is never going out of style, and light wood tones seek to emulate that style. But especially if you have a kitchen that sees a lot of natural light, darker wood tones are going to be the timeless renovation style that you are looking for. Mixing and matching wood tones is also fair game.
Mixed Pattern Tiles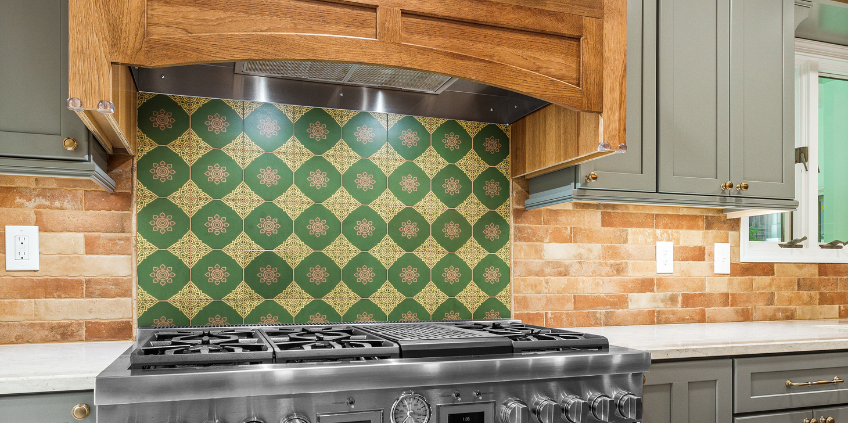 While talking of subway tiles, it was briefly mentioned that mixing and matching styles is an option that is trending. But you do not have to do this with just subway tiles. You can go for all different types of patterned tiles in your kitchen. While you are at it, add different colors to the mix as well. All these different varieties and tones are making for a new emerging trend of tiles becoming more and more like works of art rather than just existing for functionality.
Mixing Metals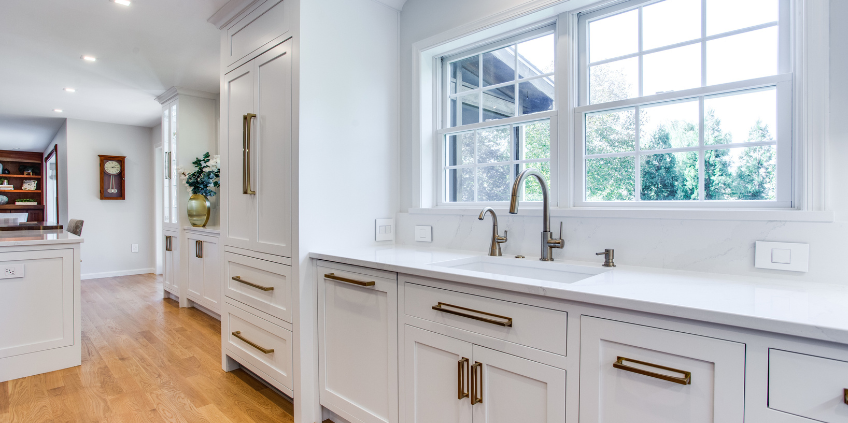 When it comes to finishes on your hardware, there are a lot of options to choose from. A trend that designers are going back to again and again is mixing them up.
You do not have to limit yourself to just one finish for your kitchen. Mixing and matching different finishing styles adds depth and intrigue to your kitchen. Brass cabinet hardware with a stainless steel faucet? Yep, you can do that. A stainless steel range and copper hardware on the sink? You can do that too. Just make sure that the colors compliment each other, and you stick to about two different styles of finish, or your kitchen might seem like you could not decide on the style you were going for.
Putting It All Together
If you've been itching to remodel your kitchen for some time, finally start the planning process. Reico can help you know exactly what to expect when it comes to your next project.