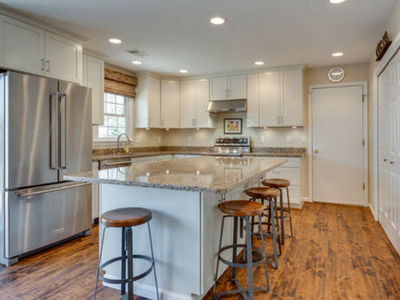 With a myriad design styles to consider when designing your new kitchen, it is often difficult to find a single style that will both stand the test of time and still suit your tastes today and for years to come. While you do not want something new that feels dated, you also don't want a super trendy design style that will be passé in a few months or years. For many this means considering more than one design style and bringing in more modern elements that create a look that will last. With some thoughtful planning, blending a traditional kitchen with a modern twist can give you the best of both worlds. Here, we explore the endless possibilities of designing the perfect balance between a classic yet modern kitchen.
The transition between Traditional and Modern.
In its simplest terms, the blending of traditional and modern creates a style that transtions between both. One of the simplest ways to incorporate an au courant vibe to your timeless kitchen is with color. A splash of paint in a crisp, vibrant hue or chic wallpaper with a captivating print can totally transform your space. You can stick to an accent wall or immerse the room with color. Maybe you are not convinced on a wall of color, so consider experimenting with a backspash, or paneling in low-maintenance Perspex or glass. Stools, seat covers or artwork in vivid tones could also add playful pops of urban flair to a traditional kitchen.
Wooden cabinets create a classic aesthetic but choosing smooth slab doors can add a renewed boost. The framing of Shaker cabinets creates a current vibe with the simple design and straight edges. Check out these three door styles that help create a modern kitchen style. Also, opt for coordinating dark wood grain worktops with a rich black worktop for a sleek and chic finish. Black serves as a blank canvas to dress up, and the stark shade will always be in style.
Finishing details of a Modern inspired Traditional Kitchen
Consider introducing chrome, concrete or glass for a modern juxtaposition against the dainty details and molding of a traditional kitchen. Modern materials can be added through countertops, cupboard handles, paneling, and cupboard fronts. Play with textures that infuse dimensional interest and break up the overall aesthetic.
Maybe giving your furniture and kitchen appliances a fresh fix is the answer for you. Think statement lamps, a stylish refrigerator, extractor hoods in brushed chrome, or even LED lights glowing within glassed cupboards. Introducing up-to-date appliances and functional technology will instantly upgrade your traditional kitchen. Reico Kitchen & Bath has done all the research to bring you choices from only the top manufacturers in kitchen appliances. Small furniture additions can help amplify the modern flow. Considering coupling molded plastic chairs with a vintage wooden table. Refresh with succulents and air plants, which are all the rage right now. What about adding a large, bold clock above a conventional mantle?
The key is to maintain the cozy comfort of a classic kitchen tailored with cool, contemporary touches. Like the concept but not sure where to start? Our expert designers are always available to help you get inspired and reinvent your kitchen. Request a consultation here and let us help you execute your vision.