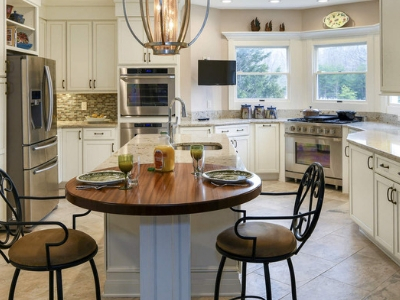 The number one question that you want to know when doing a kitchen remodel?
How much is it going to cost?
And you know the answer that's frustrating... it depends.
We all know that's the worst. Of course it depends on what type of remodeling you're doing. But you still want to know how much your remodel is going to cost.
Some people say it will cost from five percent to ten percent of the value of your home. The remodeling cost of a full kitchen is on average $20,000. Knowing the average can be helpful. But that doesn't mean that your home is average. What if you're just installing cabinets? Getting a new countertop? Installing a new sink?
There are a few main things that will have a big impact on your kitchen remodeling cost. Yet you still want your numbers.
Call Someone
If you haven't realized it by now, no matter how much of a good idea of your rough estimate you can get, it's never going to be exact until you contact your renovator. They will be able to give you the information you need to develop a proper estimate. Depending on the amount of information you've put together yourself (including basic measurements), many companies can offer you a solid general estimate that can help you start to shape your own kitchen renovation costs.
Find a company that will give you a quote without charging you an arm and a leg. Make sure they take a no-nonsense, straightforward assessment of your home and aren't trying to take advantage of you. A design and measuring fee is normal for someone taking the time to visit your home. If you bring the information that you've gathered about your house to a showroom, your initial appointment could even be free of charge.
Know Your Project
While you can gain a little knowledge by looking up the average cost of the remodel that you want to do, ask yourself specific questions about what exactly you want from your remodel. What will the scope of your whole project be? How big is your kitchen? Will you be adding plumbing? How about new wiring? All these are factors that will play into the cost of your kitchen renovation.
Know Your Products
The products that you want to use for your renovation can also drastically alter the price of the project. Appliance costs can vary greatly from stainless steel to plastic. Real wood floors versus marble, granite, or another material of your preference can alter the price. Countertop styles vary greatly. You can go online and figure out the average of everything you'd like to incorporate and add it all together to get a better idea.
Use an Estimator
But that all sounds like a lot of work. Reico Kitchen & Bath offers you a free, online kitchen estimator tool that you can use right now, without even having to pick up the phone. You'll get a ballpark estimate without even having to leave your seat.
You enter the linear feet of your kitchen, whether you want kitchen cabinets and the type you want, the countertop material you are interested in, and the appliance package level you desire. Then you get a real estimate showing a range of cost from high to low of the products for your project. It actually can be easy. Try it today.