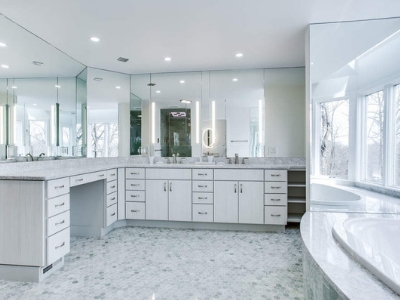 According to a survey by Houzz, the top reason that people are remodeling their master bathroom is that they want it to be more "stylish and beautiful." This is a fairly blanket term - but it definitely means that people are not happy with the style of their bathrooms. They could be outdated, the owners could change their tastes, or the bathroom could simply not fit the vision they have.
So, people are valuing prettier bathrooms across the board. Why else are they so fed up with their master bathrooms?
Ready for Change
People are tackling the remodel in their master bathrooms because they're simply tired of the bathroom that they have now. They're tired of the same bathroom day in and day out that has the same things that bug them - a leaky faucet, drawers that aren't big enough, dim lighting. Everything adds up, and makes people feel like change cannot come soon enough.
They Had the Means
Another reason that people finally redo their master bathroom? They saved up the money. Some people wanted to redo their bathroom for a long period of time, but were still in the savings phase. It's possible to remodel on a budget, but some people feel more comfortable waiting.
Adding to the Resale Value
People also sought to renovate their bathrooms because they wanted to add to the resale value of their home. You don't want to live in a home with a master bathroom that you don't like. So why would someone want to buy a home with the same? Updating your master bathroom can increase the appeal of your home and make it easier to sell, as well as getting noticed on the market.
The Bathroom Was in Disrepair
Of course, if your bathroom is old and deteriorating, you're going to want to fix it. Because water is always being used in the bathroom, it often needs more renovation than the rest of the rooms in the house just because of all the wear and tear and the moisture that's usually present.
Their Home Was Recently Purchased
After buying a new home, the master bathroom is usually one of the first things to renovate. Everyone's taste is different, and many people want to personalize their space after moving from one place to another. If you've moved recently and have the space but don't love the old owner's taste, it's time to consider redoing the bathroom.
When people are redoing their bathrooms, besides making it look stylish and beautiful, they also want it to have easy storage, good lighting, feel like a spa, be easy to clean, and help them relax. Is your bathroom like that?
Maybe you're checking off the list and realizing you want to redo your master bathroom, too. At Reico Kitchen & Bath, we love any reason to do a renovation. Giving people an actual bathroom that they actually love is the reason we do what we do. Contact us today if you're ready to love your bathroom, too.