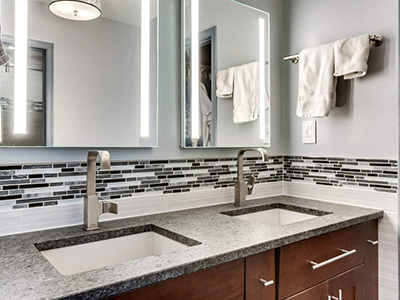 If you have an older bathroom, it feels pretty safe to say that for the most part we would all agree that we want to remodel our bathrooms to make them better. It makes perfect sense. A bathroom remodel is an immediate upgrade from the bathroom you had before. Not only does it look good, it feels good. You get new fixtures, new countertops, new showering, new decorations - anything you want depending on the size and scope of the model. Are there any of us who would turn down a new bathroom in their house?
Wanting is a solid reason, but what are the other reasons you might remodel your bathroom? We are sure you have got other reasons. See how they match up with these other common reasons to remodel your bathroom.
To Increase the Value of the Home
Whether you are staying put in your home for a while or are looking to sell right now, choosing to remodel your bathroom will always make the value of your home go up. Because your bathroom is one of the rooms that experiences the most wear and tear over time, anyone interested in buying your home will be especially interested in assessing the condition of the bathroom.
With the wear and tear of even normal everyday use the bathroom often looks older than the rest of the house, which is something real estate agents are all too aware of. They will thoroughly inspect the bathroom, and value the house based on the assessment. A good update could pay for itself in the long run.
There is an Issue in the Bathroom
Because plumbing in a bathroom inevitably deteriorates over time, that can also mean that a bathroom remodel is eventually going to happen. Going hand in hand with plumbing issues, it can also go for other areas of your bathroom - the tiles might be broken, the water might be leaking, or there might even be an issue with the electrical.When your bathroom begins to have ongoing problems with the plumbing or other areas, people often use that to jump start a bathroom remodel idea along with fixing the plumbing. That is why having existing issues is one of the most common reasons to remodel your bathroom.
Another issue that could facilitate a bathroom remodel is if there is mold or mildew in the bathroom. Not only is this not a good look in any bathroom, it is also dangerous. The longer you go without remodeling your bathroom, the more likely you are to see a mold or mildew buildup...or find mold when you start to remodel. If you were unsure up to that point, you will know for sure now that you have made the right decision to remodel your bathroom.
It is Not Safe in the Bathroom
Beyond fixing issues as previously mentioned, updating your bathroom so it is as safe as possible is important for other reasons, which is why it is high on the list for reasons why to remodel your bathroom. With more extended families staying at home together and aging-in-place, a bathroom remodel can eliminate existing danger areas and offer greater ease of use to all generations. Non-slip floors, walk-in showers, comfort height toilets and full height vanities with lighted toekick are just a small sampling of ideas and options to make a bathroom safer.
You Need More Storage in the Bathroom
Most bathrooms are not very large, which causes storage problems for almost every homeowner. At minimum, you need enough space in your bathroom to store your toiletries and your towels. We all know some bathrooms are lacking in just this from the start. Take a look and you can almost always find ways to increase storage, whether it is by adding drawers to a vanity or filling an open space with a cabinet, either as a vanity base or as a vanity tower on your countertop between two sinks. A bathroom remodel designed to increase storage space not only gives you more room, but also gives you peace of mind knowing all of your items are organized with a designated space.
In some cases, you can even consider making your bathroom larger if your space and home can allow for it. A small bathroom might be okay for just one or two people, but with a growing family, you are definitely going to need more room. Bathrooms can be remodeled to be larger, and/or more kid friendly with heights and sizes of sinks that can also aid older family members who need to age in place in a safe bathroom. Like many of the design decisions you will be making when you remodel your bathroom, this is something you can talk to your designer about.
Your Bathroom is Not Sustainable
New updates to technology mean that a bathroom that has not been renovated in years is probably behind the curve. If you have lived in your home for twenty years without updating the bathroom, fixtures such as piping, toilets, sinks, showers, and more probably could be more environmentally friendly. Doing a bathroom remodel allows you to add water-saving toilets, faucets, and other more efficient features. Even the lights in your bathroom could be updated to save more electricity, which also saves you money.
You Want Updated Features in the Bathroom
This falls along the lines of wanting to remodel your bathroom to make it look and work better, because it is simply outdated. It is okay for you to want to remodel your bathroom simply because you are looking to upgrade.
Maybe you have already been daydreaming about adding features, and remodeling your bathroom is a way to get them. You can add so many things when you are remodeling, such as:
Walk in showers

Dual sinks

A new bathtub

Media equipment

Heated flooring

Shower seats

Touchless toilets and faucets

Rain showers
And more! Is there a particular feature you're dreaming about adding to your bathroom remodel? Because that's as good of a reason as any to do a remodel.
It is not YOUR Bathroom
Similarly, you could have purchased your house recently, and do not like the look and feel that the previous owners were going for. You want to give your bathroom a touch of your own personality, something that can not be done just by adding new decorations. Sometimes, the entire bathroom needs to be redone so it can fit with your personal tastes.
Whether you are looking to remodel your bathroom now or are planning a bathroom remodel in the future, we are always ready to give you the help and advice that you need. You can start your kitchen or bathroom remodel virtually, or in the store.
We are as serious about our safety measures as we are about giving you a great remodel. Contact us today to get your bathroom remodel started!