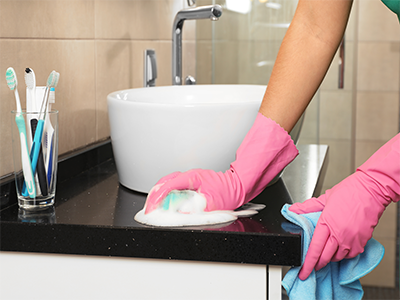 Right now, the one thing on everyone's mind is how to keep germ-free. However, in the bathroom we are always thinking about how to stay germ-free. We all know that the bathroom is a place where germs like to hang out. That warm, moisture-filled room can be too hard for germs to resist, especially while we are spending more time inside of our homes and our bathrooms are getting more everyday use than they ever did before.
Cleaning your bathroom is definitely a chore. There is no arguing that. We often find ourselves down on our hands and knees scrubbing in places both easy and hard-to-reach. When cleaning the bathroom is constantly on your to-do list, we are all guilty of procrastinating on it. At Reico Kitchen & Bath, we are telling you that with the right considerations for your bathroom remodel, cleaning your new bathroom does not have to be that bad. Really. Because you can remodel your bathroom into one that can be a lot easier to clean, saving you both time and worry.
Less is More, and Less
It sounds crazy right? But let's be honest. Sometimes your bathroom can feel overwhelmed by cluttered space that you do not believe you have any other option for.
Many things can take on less in the bathroom to give you more. That tiled corner tub that you have to step into to clean the tiles and grout by the wall? Tear it out and replace with a free-standing bathtub you can easily move around and access from more than one point. That shower with heavy framing where all the grime builds up around the frame and joints? Go frameless for a cleaner look and easier clean.
Even your toilet can be made "less." Your toilet might have a small gap between the tank and the rest of the wall. Eliminate having to bend and reach to clean this area by choosing a toilet that is flush with the wall. Wall-faced toilets sit against the back wall of the bathroom. The seamless sides help to prevent dust from collecting, and makes the cleaning process more smooth because you can glide from side to side. While you are at, make sure that any new toilet is also well-glazed. It keeps your bathroom looking clean and new.
You should also take a close look at those floor-standing vanities, especially if they are near the shower or the bathtub and have taken on some water over the years. Or the exhaust system and those dirty vents. Upgrading your exhaust system is a must-do when remodeling for a cleaner bathroom, because it helps prevent moisture buildup and stops dust from settling.
Larger Tiles
One of the easiest things to avoid or at least minimize when remodeling for a clean bathroom is grout. Grout can build up with dirt and germs easily. While eliminating grout all-together may not be an option, be mindful of ways to manage its presence in the bathroom.
If you do want grout, either in your floor tiles, shower, or sink counter, choose a larger pattern that does not have small tiles. That way, you will be able to scrub between larger spaces more easily. Make sure that you use a grout sealer as well so that you cut back on the porous texture of the material where germs like to hide. An epoxy grout blend cannot be penetrated by water and is another good choice to consider.
Wide Open Spaces
It is no shock that germs like to hide out, particularly in small, hard to reach spaces. That is why the more open your new bathroom design is the easier it can be to clean. Work on creating a bathroom design that eliminates nooks and crannies. Not only will it be much easier to dust and scrub, in most cases this type of design actually makes the bathroom look and feel larger.
Eliminating touch points with the ground can be a great way to reduce cleaning time. Wall hung or floating vanities, toilets, and cabinets give you much more room to work around, and can even allow more room for storage.
Walk-in showers add to the look and cleanliness of an open space. Instead of cutting off the shower, creating a walk-in gets rid of some of the wall and extra tiles that you would have had to clean and scrub. A freestanding bath can be easier to clean as well, because they don't have any of the corners, tiles, or grout that an inset bath might have.
An Easy to Wash Sink
You know, the area of your sink where the water goes into and goes down the drain? Yeah, that washing basin. There are a few options to choose from with easy-cleaning in mind.
Under counter sinks, or under mount sinks, are the most commonly seen sinks in bathrooms. Here, you clean the sink where the ridge meets the stone or whatever material your vanity countertop is, either above or below the main surface. Lining that seam with silicone makes that area much easier to clean.
Countertop sink basins are housed on the top of your counter versus being inset. These can be very decorative and allow you to clean inside and outside of the bowl. You have to pay attention as well to where the basin meets the countertop, and be sure to clean around that surface.
You can also opt for a vanity top that is one continuous piece with integrated ridges, edges, or lips. This option is one of the easiest to clean and can offer some unique looks.
Semi-inset basins are the marriage between these two options, where the bowl of the basin sits partially underneath the countertop with an edge that peeks out and extends over the countertop. Here, you will be cleaning where the lip of the sink material meets the countertop as well as the rest of the top of course.. Be sure for all different sink options to get a drain that is easy to clean, with simple hardware that is easy to remove and re-attach and doesn't have porous or heavy designs on the surface.
At Reico Kitchen & Bath we want you to know that we are here for you. No question you can ask is too small, or even too big. Want to know about planning a remodel far in the future when you are ready and able to? We would love to talk. Want to know about planning for a remodel now, and ask your questions about the steps to get there? We are here for that too. We are open to talking with you no matter what planning stage you are at and learning all your questions and concerns so we can guide you to a kitchen and bathroom that you will be delighted with.