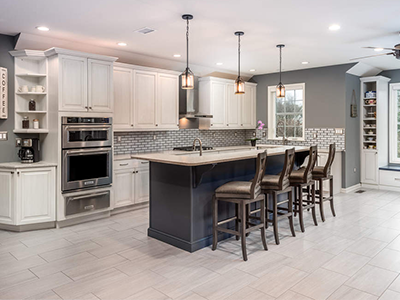 Amidst the pandemic, everyone wants to find new ways to keep their house as clean as possible. As we have all learned ourselves after years of cooking in our own kitchens, this is the room of your house that tends to need the most attention regarding cleanup. We cook here. We eat here. And yes, we really do like to hang out here too. The kitchen is one of the most highly trafficked areas of the house. But as with all rooms of the house, then you have to clean it all up.
Working, eating and living in the kitchen is great, but all the cleanup? Not! Working in your kitchen when you know you are going to be just as hard at work scrubbing all those hard to clean parts of your kitchen later can be tough. That is why when you decide to remodel your kitchen, you need to consider a kitchen renovation that will make cleaning your kitchen as easy as it has ever been. If you are already spending too much of your time cleaning up in your kitchen, it is time to consider one or all of these easy to clean kitchen tips:
Easy to Clean Kitchen Tip: Choose a Simple Backsplash
Your kitchen backsplash is often on the receiving end of everything, especially the sprayed and spattered food you are cooking. You know that you are going to have to give it a good wash whenever you are done. If you are fed up with the constant scrubbing and going over your grout time and time again, there are easier to clean options for you.
If you are absolutely locked in on tile, opt for a pattern with large squares so there is less grout to clean. The real easier to clean options, however, are slabs of material that wash down easily. Marble, granite and engineered quartz are just a few of the options that can be wiped down in much fewer passes than any grouted backsplash..
Easy to Clean Kitchen Tip: Choose Easy to Clean Appliances
When you are considering a new range or any new appliance, you are often first drawn to how beautiful it is, how well it matches with your home and the overall price point. However, do not forget to add one more important consideration to that list - how easy it is to clean. Go over all the details of the appliances you are choosing from... lots of knobs and nooks that are difficult to reach or get into could be a cleaning hassle. Knobs on your appliances that are close together makes them difficult to wipe down. Cooktops should be mostly flat across the entire range, if not entirely flat.
You can even choose appliances that clean themselves - a dream come true, right? Many modern ovens have pyrolytic cleaning capabilities, where the oven burns off residue with high heat while most dishwashers offer a self-cleaning function as well.
Easy to Clean Kitchen Tip: Choose Flat-Front Cabinets
If the style is what you are looking for, selecting flat, slab laminate cabinet doors can make for a quicker, easier wipe down for you when you are wiping over everything for a cleaning. Regardless of whatever cabinet door style you are choosing for your kitchen, keep the knobs and pulls you might be considering in mind as well. Similar to appliances, the more knobs and pulls to clean, the more nooks and crannies to work in and around.
Easy to Clean Kitchen Tip: Add a Base Waste Basket Cabinet
It is a given fact that you do not want your trash can out in plain sight in your kitchen. That is why you must hide it away. Ideally that would be under your sink, but often with plumbing the space just does not allow for it. Not to worry! It is very common to add a base waste basket cabinet to your kitchen. Opens include single for trash or multiple baskets for trash and various types of recycling. The key design element when adding a base waste basket cabinet? Create the least amount of distance between your sink and the trash bin, where the majority of waste comes from.
Easy to Clean Kitchen Tip: Select a Non-Porous Countertop
Your countertop is the thing in your kitchen that typically takes the heaviest use of all. You are constantly having to wipe it down and clean it up. If your goal is to find the material that is the easiest to clean and wipe down, non-porous options such as engineered quartz and solid surface are hugely popular. While engineered quartz typically offer more dynamic color options, solid surface countertops are typically the most hygienic, with a near seamless appearance for a crisp, clean (no pun intended) look.
Easy to Clean Kitchen Tip: Avoid Open Shelves
Open shelves have been trending and add a distinct look, but you might want to think it over if your goal is an easy to clean kitchen. While it is the obvious place for a favorite item or trendy knicknack, cleaning them up (and everything on them) is not so simple. If you are trying to keep your kitchen as streamlined as possible having to move lots of decorations when wiping down your shelves will result in a lot of time cleaning, not to mention the dust and grime to clean off of them. Stick to storage inside your cabinets.
Easy to Clean Kitchen Tip: Cleaner Drawers
Everyone has that one drawer (hopefully only one) in their kitchen that screams to be completely cleaned out. You know the one. Get your kitchen drawers organized! Adding a cutlery tray, cooking utensil organizer, a charging drawer or other cabinet drawer accessories can make a huge difference. Another option to keep your drawers tidier is simply to add drawer liners. A quick wipe down grabs the crumbs and dust that gather.
Easy to Clean Kitchen Tip: Pick Durable Paint
For the painted walls of your kitchen, choose a paint that can stand up to being wiped down often. Some paints just will not hold up after being wiped down day in and day out. Choosing a hard wearing paint finish up front keeps you from having to pay for paint again sooner than you want. Oil-based finishes tend to stand up to cleaning better than their counterparts. Asking your kitchen designer which type of paint they prefer using in their work is a good idea, especially if you can find one in the color that you are looking for.
At Reico Kitchen & Bath, we are available in store and by virtual appointment to get you started on your kitchen or home cabinet project. Read up on how we're evolving with COVID-19 in order to keep our guests safe. We are ready to assist you with your renovations in the absolute safest way possible. Love your kitchen and bathroom again, especially while you are spending so much time at home. Let us make your life so much easier with a new kitchen or bathroom to enjoy spending your time in.