Right now, it is hard to know what day-to-day life is going to look like. Some of us might be on the front lines, some of us might be worrying where money is going to be coming from, and some of us might simply be staying at home.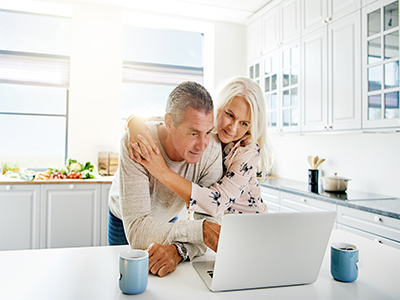 Especially for those of us staying at home, it is easy to notice when your kitchen or bathroom is not up to par or maybe just not cutting it at all. With all the cooking you have been doing, that dream of a new kitchen keeps getting stronger and clearer. Of course, the kitchen may not be the problem at all. It could be that you are tired of cleaning a bathroom that never seems to be clean...or organized. It is certainly not a place to get away and relax. And who does not need that at any time?
Maybe you were already planning a kitchen or bathroom remodel. Now, you are a little less certain that you will have the budget to get you there. While the world looks different right now, that does not mean you want to wait and let your kitchen and bathroom stay the same. Now is the time to plan your budget in a challenging economy and see what what really matters for you to have a successful kitchen or bathroom remodel that you can enjoy.
Planning Your Budget: Select the Scope
One of the most important things in setting your renovation budget in a challenging economy is to actually start with a budget in mind. Let's say it again - start with budget in mind!
It is too easy to get swept up in wants instead of needs. You are going to have to have a conversation with your designer right from the start about your budget, your remodeling goals and the scope to go with it. Maybe you can not re-engineer your entire bathroom layout and design, but you can get all new cabinets, fixtures, flooring, and lighting. You will likely be surprised at how this mindful planning can wipe away the stress and feelings of uncertainty around your budget. Do not forget to ask about your return on investment as well. The right combination of value and ROI can create a renovation that can create real value in the event you were to resell your home.
Planning Your Budget: Save on Products
When doing a remodel, there are ways to make value-based selections without actually sacrificing quality. Sound too good to be true? Consider fashion for a moment: how easy is it for you to spot a pair of $50 jeans versus the $500 pair? The same is often true for home remodeling.
Perhaps you have got your sights set on an appliance brand you think is the best, but the price tag feels just a little high for your project. Take the time to compare it to other brands that do not cost you as much and weigh the differences. It is not uncommon for the product to function exactly the same with the comparable quality and durability, but simply cost less due to the brand. Focus on this for multiple products when you are planning your budget in any economy. You will no doubt discover where you will be able to save money without sacrificing all the quality and performance you were expecting.
That being said, you'll want to choose to invest smart. While most of the time you can make an informed choice about which materials and appliances you want to splurge on and where you want to save, you will also want to consider the pieces you feel strongly about investing in.
If you want to add a nice marble countertop to your kitchen or bathroom and your current budget has room, you can look at more pricey elements like this as an investment in your home and your potential ability to sell.
It is also necessary to look at what materials and appliances will and will not last. If you are selecting cheaper flooring because you think you will be able to cut back on costs, you might want to pause and reconsider. Materials that are going to start to fall apart after continued use may actually end up increasing your budget in the long run if you had to replace them again. Strike the balance between your budget and where you might be going too cheap, and you will find yourself honing in on the perfect formula to planning an effective budget.
Planning Your Budget: Get Efficient
Now more than ever, we are all able to trim down costs by opting for energy efficient appliances, lighting and power. With increased efficiency in alternative sources of energy like solar panels and LED lights, cutting back has become more simple and is more loaded with options.
If you have an old refrigerator, you could be sapping energy you did not even know you were using. The same can be said for saving water with a new sink faucet, dishwasher, shower heads and other old appliances that use water or electricity. Going out with the old and in with the new, can realize you new savings on utilities.
While solar power is another option to look into, you must also think about harnessing the natural light you might have available to you. Talk to your designer about how to bring light into your rooms that will not break the bank, such as creating or opening up a window or using energy efficient lighting.
Work With a Designer when Planning Your Budget
Seriously, we know how to design around a budget. Working with people who have budget restrictions, we know that even a limit on how much you can spend does not always have to limit every aspect of your new kitchen or bathroom. With all the resources you need for your remodeling project, we can work together to plan your budget, your style and your products and design. We are ready to help you save money and still get a renovation you absolutely love.
You can start your project virtually too. Request an online consultation from us, and learn what we're doing to slow the spread of COVID-19. At Reico Kitchen & Bath, we are committed to both your safety and your happiness. Let us know if you have any questions at all during this time - there is no question too big or too small. Our job is to guide you through every step of the way from beginning to end, and create a kitchen or bathroom you can truly enjoy. Contact us today to talk about your remodel. Your new room awaits.