When you first walk into a home, one of the first rooms to catch the eye is the bathroom. The bathroom is one of the most important rooms when it comes to resale value, and the numbers agree. A well-designed bathroom can add as much as 20% to the value of your home, making it one of the smartest investments you can make. On average, people should expect to budget 5% - 10% of their home value for a bathroom remodel, and for the budget conscious, there are ways to control the cost of your new bathroom while still adding value to your home. By focusing on elements that are most likely to return on the investment, you can avoid overspending on your bathroom renovation. These are a few of the best bathroom remodeling ideas to add value to your home.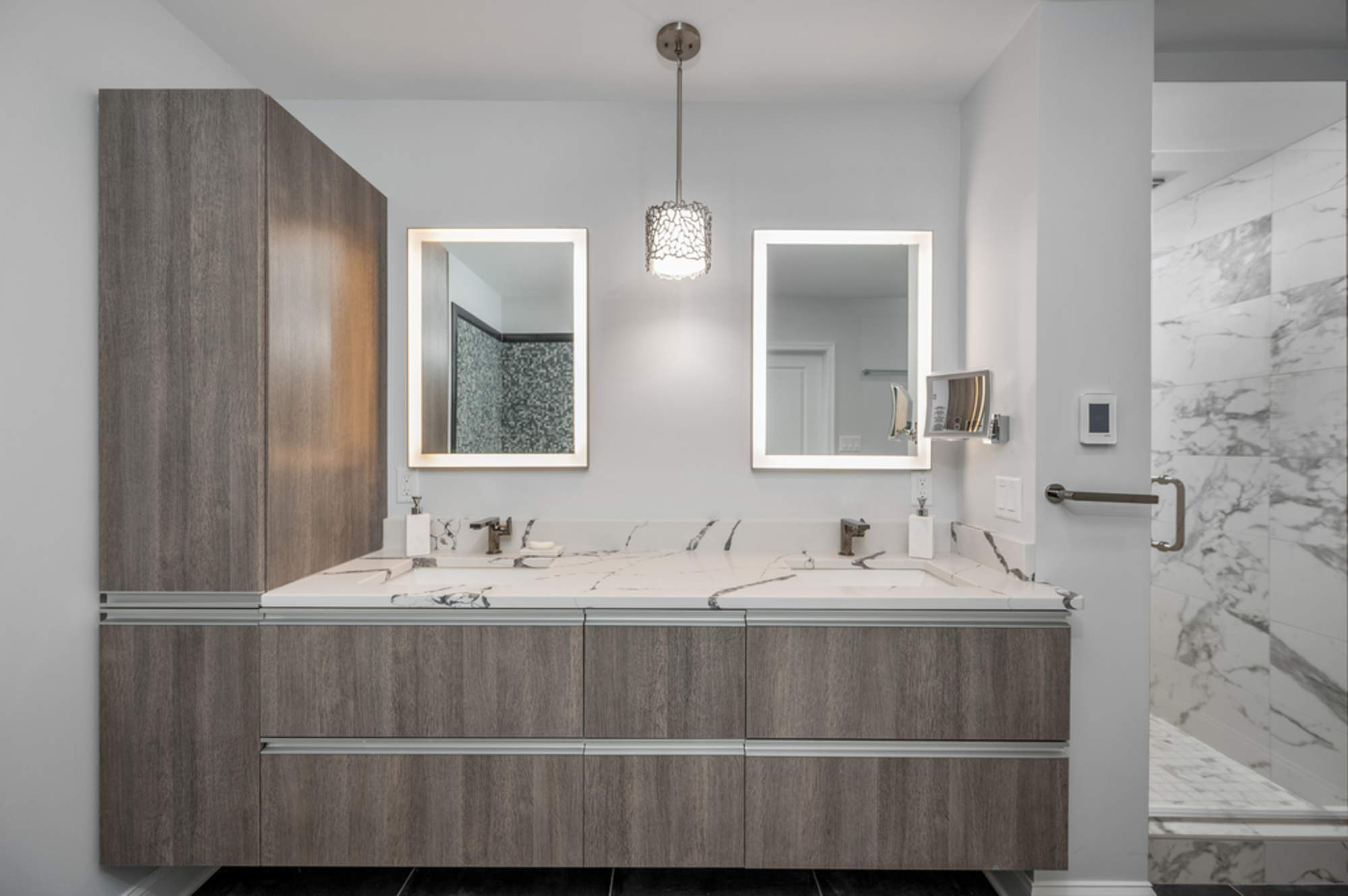 Add a floating vanity and double sink for a modern look
Modern bathroom design is all about creating a spa-like oasis in your own home. One of the most important elements that contribute to that look is the vanity. Installing a floating vanity creates a modern look that will also add value. Floating vanities also offer some optional under-cabinet storage space, which is a bonus in any bathroom remodel. You can further enhance your floating vanities with toe-kick or under-cabinet LED lighting. These added features will give your bathroom an extra touch of luxury and just make it a little more fun to use on a daily basis.
Double-sink vanities take this look up a notch if you have the space. Not only do they offer a more spacious feel, but they also make it easier to get ready in the morning when you are sharing a space. Double-sink vanities look luxurious and can help stack up that ROI on your remodeling spend.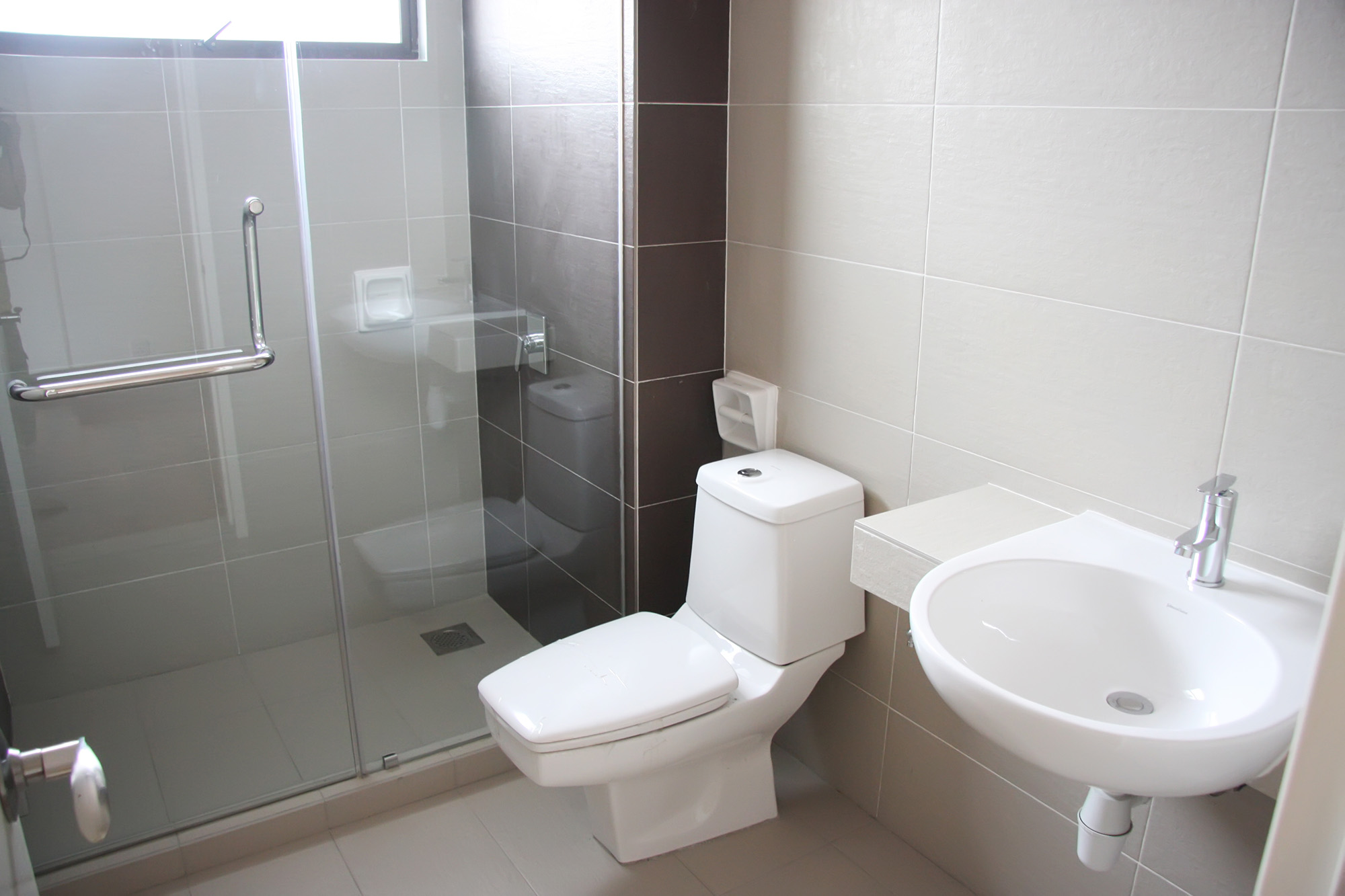 Replace the toilet
One thing that is often overlooked is replacing the toilet. Not only will replacing your old toilet give your bathroom an improved look, it will also improve its efficiency. An older toilet typically uses more water than necessary so replacing it with a newer, more efficient model will not only save you money on your water bill but will also help to reduce your home's carbon footprint. And if you decided to sell, these savings will be passed on to potential buyers and make your home more appealing.
Add tile to floor and walls for a sleek, polished appearance
Tile is an excellent material for bathroom remodeling projects because it is easy to clean and highly durable. Since it comes in such a wide range of colors and styles, you can create a custom look that matches your personal taste. Installing new tiles on the floor and walls makes your bathroom look more polished and stylish, and it also adds value to your home - a double benefit.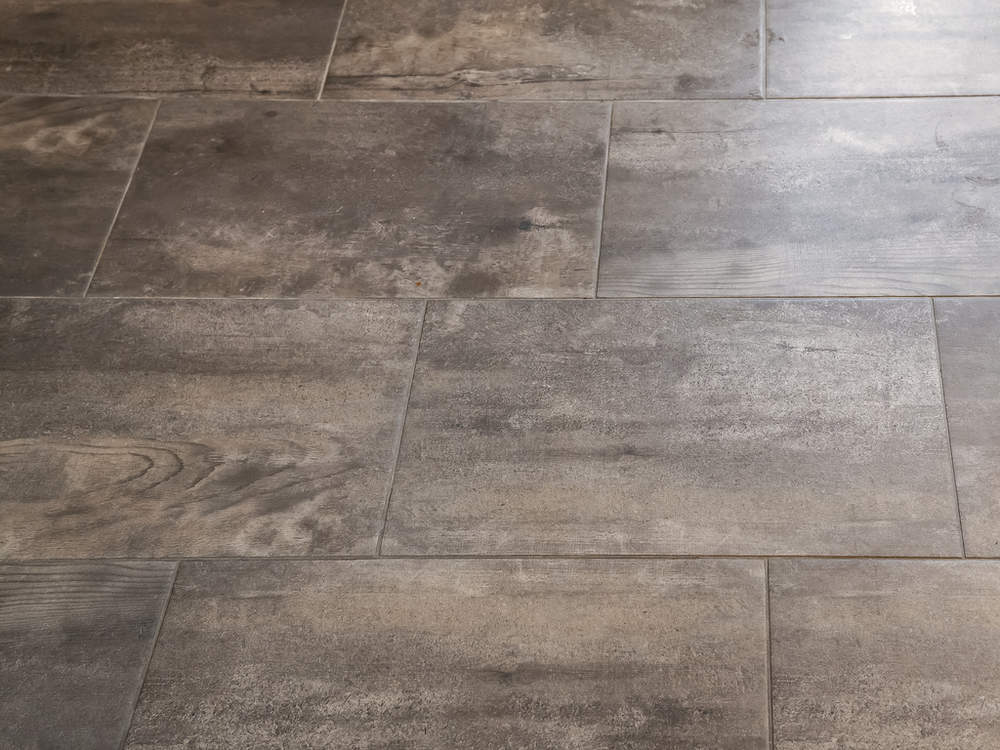 Find value in vinyl flooring
If tile flooring is not really your style, another option to consider is vinyl flooring. Vinyl is one of the most popular options – and it's very affordable. There are many different styles to choose from that can mimic the look of hardwood, tile and other desirable surfaces. Keep in mind when selecting vinyl flooring for a bathroom, it is essential that you choose a waterproof option that can tolerate moisture and heavy use.
Prioritize ventilation
When it comes to bathroom hygiene and safety, one of the most important things to focus on is ventilation. Mold and mildew are common problems in bathrooms, so it is important to have good ventilation to draw out humidity and moisture. This can be accomplished by adding a window or a ventilation system. A window allows for chance to add natural lighting to the space as well. The simpler route to improve air quality is to install a bathroom fan. Windows are usually kept closed during the colder months, but a fan can be used throughout the year.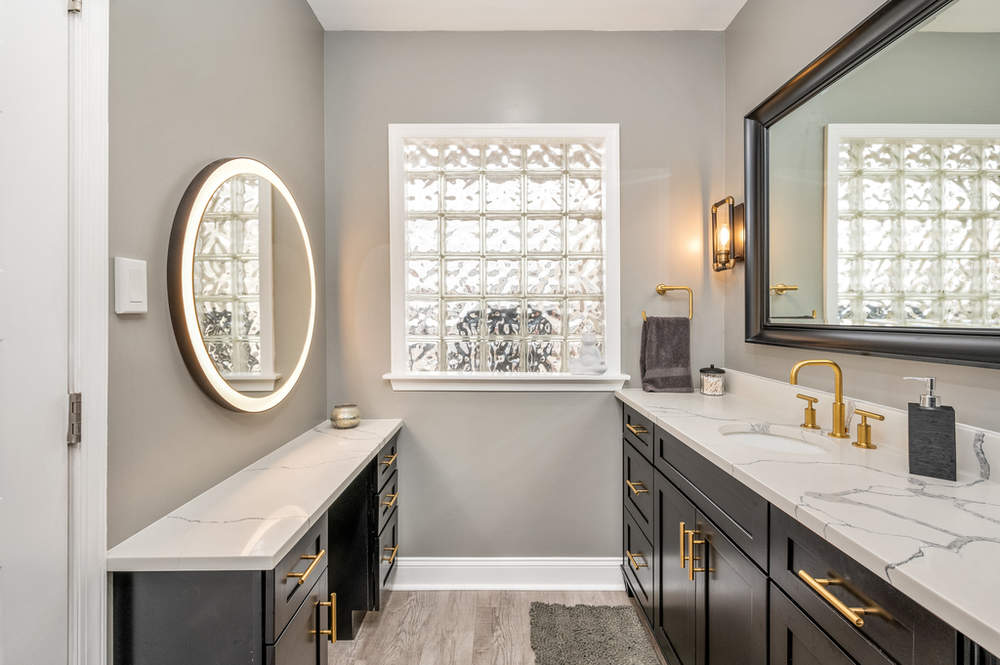 Upgrade your plumbing fixtures
The little things matter! This includes swapping out old, outdated plumbing fixtures for new ones. New fixtures offer a quick and easy way to give your bathroom an updated look. They not only refresh the look, but in some cases can help to save water and energy to lower your utility bills. When choosing new fixtures, keep your bathroom's overall style in mind. If your bathroom has a more traditional look, stick with classic fixtures in finishes such as polished chrome or brass. If you are going for a more modern aesthetic, opt for sleek fixtures in a matte or another on-trend finish.
Replace the shower curtain with a glass door and open space
Let's talk about simple design idea that offers big changes. Adding a glass door and transforming to an open or curbless shower is an idea that can have a big impact. Shower curtains can feel outdated and grungy, plus do you really need that tub? A glass door and open shower give your bathroom more of a luxurious feel. Not only will this change improve the look of your bathroom, it can also make it feel more spacious not to mention safer without a tub to step over or into. Plus the glass door will be easier to keep clean than a shower curtain.
Put in heated floors
One luxury item that can add both function and value to your home is heated floors. On a cold winter morning, there is nothing better than stepping out of the shower onto a warm floor. Heated floors may seem like an expensive addition, but this unique selling feature is one that can provide a return on investment in both increased resale value or just the enjoyment of your home if you are planning to stay. The colder the climate, the more impactful the addition of heated floors can be. Even in warmer areas, they can provide a welcome upscale touch.
Heated floors are also a safer alternative than traditional flooring. They reduce the risk of slips and falls, and can also help to reduce energy costs by keeping the room warm without having to crank up the heat.
Maximize storage
Storage, especially in small bathrooms, is always a selling point. Maximizing storage gives a feeling of proper organization and serenity to any sized bathroom. This can be accomplished in many ways, such as adding shelves or cabinets above the toilet or sink, or installing a medicine cabinet. If you have the space, you may even want to consider adding a linen closet. Providing extra storage can also add visual interest to the bathroom.
Update cabinet hardware for a finishing touch
Updated cabinet hardware can make a big difference in the look of your bathroom. Just swapping out old for new can give your space an instant facelift. If your budget allows, consider higher-end fixtures like waterfall faucets or vessel sinks. These pieces add style and value to the home. And do not stop at hardware. Look at all your fixtures, from towel bars to toilet paper holders. How would a heated towel bar or rack work in your bathroom? In some cases, upgrading fixtures can be completed without major construction, making them a cost-effective way to add value to your home.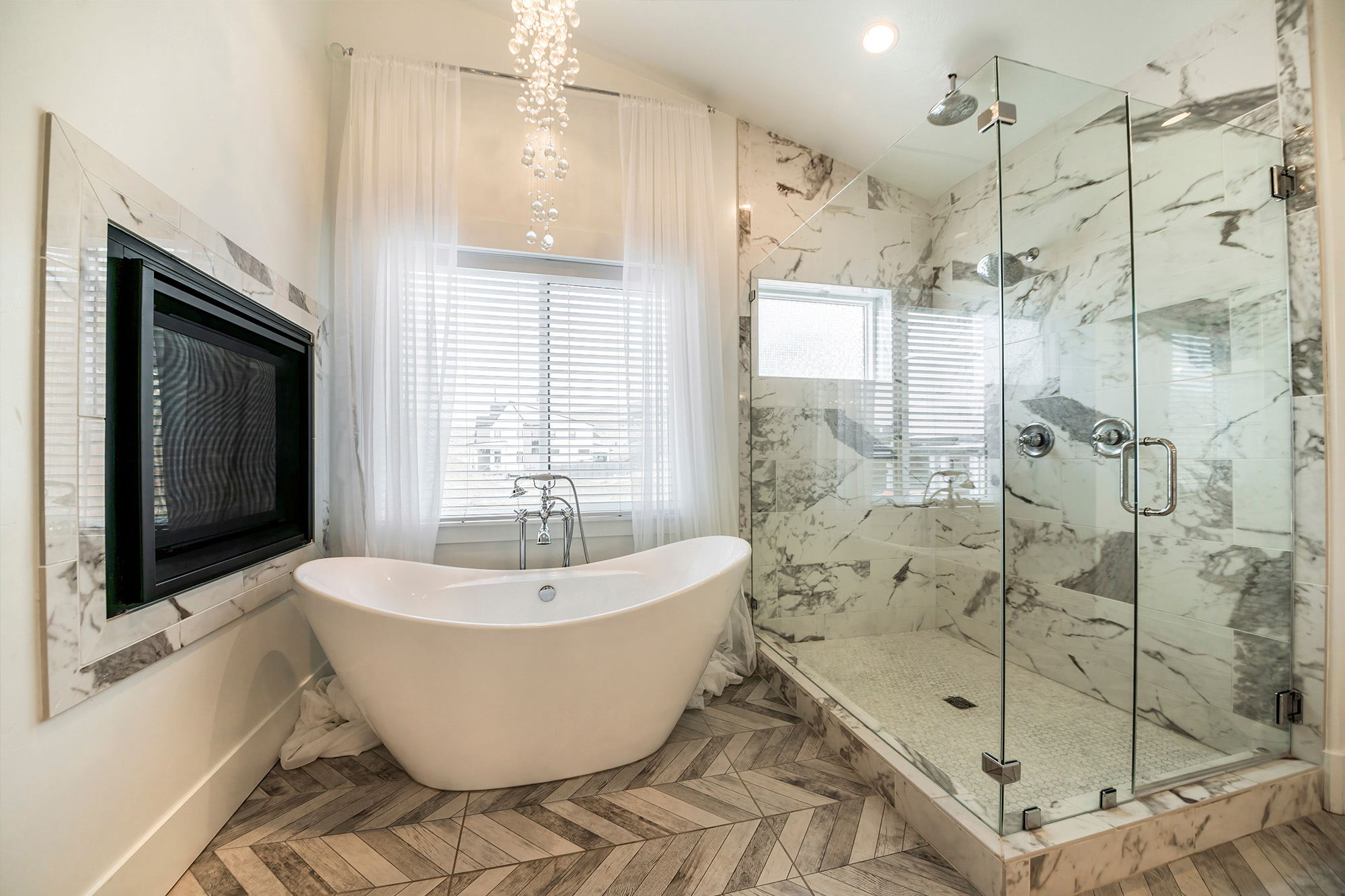 Don't forget lighting!
Good lighting sets the mood and is important in any room, but it is especially crucial in the bathroom. It can make a huge difference in the overall feel of your bathroom, helping to create a functional, relaxing, and inviting atmosphere. For example, better lighting around the vanity can help with getting ready each day, while a dimmer switch or color options can set the mood for a relaxing bath or luxurious shower.
When choosing your lighting fixtures, look for ones that are both stylish and functional. Recessed lighting for example helps add ambient light without taking up space, and pendant lights can add a touch of elegance. We also recommend taking advantage of natural light by installing windows or skylights.
Bottom Line
When remodeling your bathroom, it is always help to consider how the changes will affect the value of your home. While you may be tempted to indulge your personal aesthetic, it is wise to consider how potential buyers will react to your choices. Everyone has different preferences. A luxurious spa-like bathroom may be a selling point for some, but others may prefer a more simplistic design. It is also important to keep practicality in mind; potential buyers will appreciate features that make the space more functional, such as additional storage or updated lighting.
Another reminder when deciding what exactly to renovate is that a complete overhaul may be necessary to update an outdated bathroom or to make better use of the space. Whatever you do, using quality materials that will last is always a good investment. Your details matter more than you might initially think, so don't lose focus on your fixtures, hardware, and tile work. Creativity is key when it comes to bathroom design. Don't be afraid to make your bathroom stand out.
When you need help with your bathroom remodel or bathroom design project, contact us now for a design consultation. We have over seventy years of experience and would be happy to work with you to create the perfect bathroom for your needs.