What better way to understand bathroom remodeling then by breaking down an actual project and providing insight into the product, design and costs. In the first of this series, designer Cat Neitzey of Reico Kitchen and Bath in Fredericksburg, VA takes you through a budget-friendly small hall bathroom remodel and the details of the project, a 53 square foot bathroom with a singular focus: updating the space for resale. In this article, she walks us through the choices made and the costs involved in transforming the small bathroom.
The Challenge:
Hi, I'm Cat Neitzey, designer at Reico. When our client approached us with the idea of renovating their hall bathroom for resale, we knew we had to balance cost-effectiveness with style. The goal was to make the bathroom look inviting and modern without overspending. We achieved this by carefully selecting readily available materials and fixtures that did not compromise on quality.
Cabinets: Smart Cabinetry Brighton Maple Coffee - $575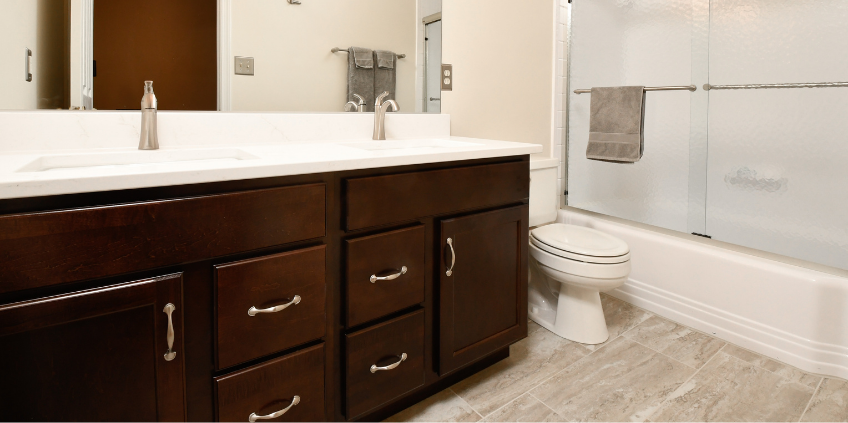 One of the first things we tackled in this bathroom remodel was the cabinetry. We opted for Smart Cabinetry's Brighton Maple Coffee cabinets. These cabinets not only provided ample storage but also brought warmth to the space with their rich, coffee-colored finish. The vanity cabinets were a cost-effective yet stylish choice.
Design Tip: Maximize storage in a small bathroom by choosing a vanity with built-in shelves or drawers. This not only keeps the space organized but also reduces the need for additional storage units.
In Stock Cabinets Tip: Visit Reico Express to learn more about our in-stock assembled cabinets!
Countertop: Vadara Naturelle Quartz - $1,205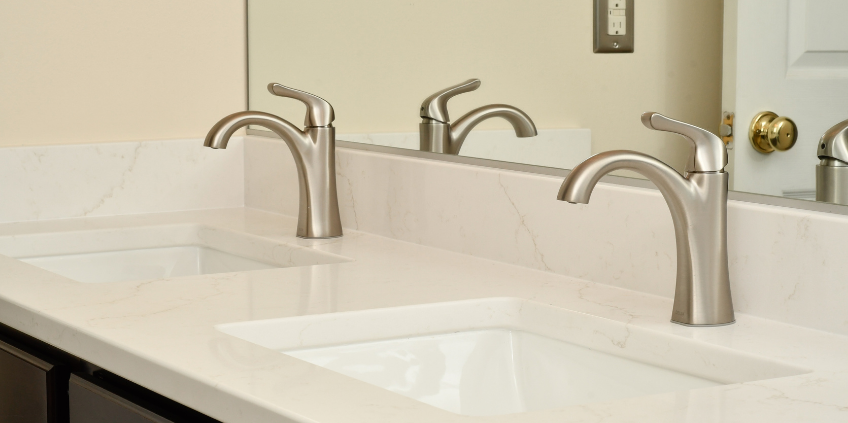 For the countertop, we chose Vadara Naturelle Quartz. Its timeless appeal and durability made it a perfect fit for this project, adding a touch of luxury without exceeding the budget. The soft, neutral tones of the quartz complemented the cabinetry beautifully.
We were able to secure these quartz tops as remnants, previously cut slabs with a portion large enough to fit this project from our favorite fabricator's remnant inventory. This not only helped reduce costs significantly but also allowed us to make an environmentally friendly choice by using existing materials.
Design Tip: Quartz countertops are durable and easy to maintain, making them an excellent choice for bathrooms. Look for options with subtle veining for added elegance.
Bath Products: Moen Align and Arris Accessory Fixtures - $248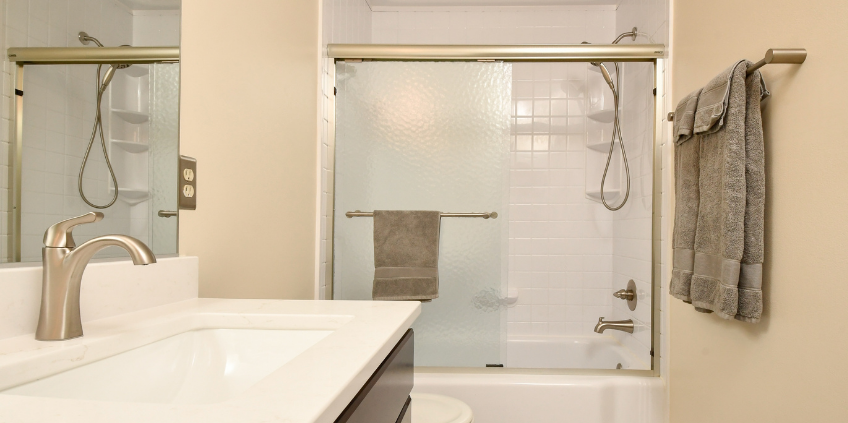 Fixtures can make or break a bathroom's look, so we made sure to choose wisely. We went with the Moen Align & Arris accessory fixtures, which included faucets, showerheads, and other bathroom hardware. These fixtures not only looked sleek and modern but also came at an affordable price.
Design Tip: Select fixtures and accessories that match the overall style of the bathroom. Brushed nickel or chrome finishes offer a modern look and easy cleaning.
Tile: 12x24 Atlas Tile Nashville Tivoli (Floor) - $276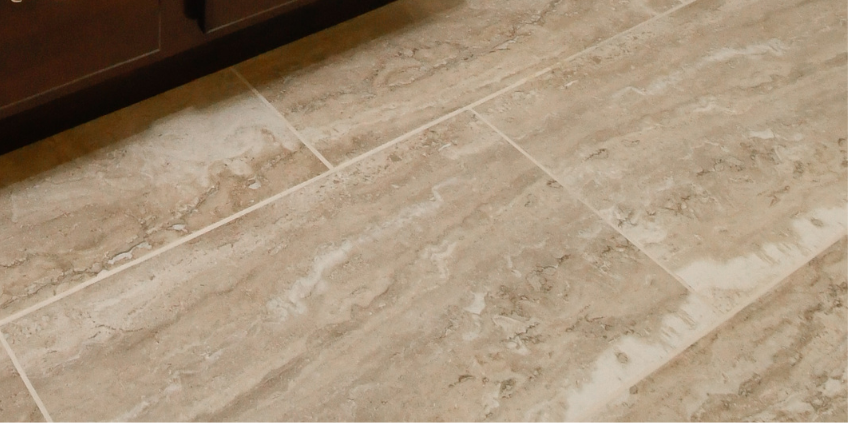 Tile selection played a crucial role in completing the desired aesthetic. We selected 12x24 Atlas Tile Nashville Tivoli for the bathroom floor. The tile's pattern added visual interest, while its neutral color scheme tied everything together at a cost-effective price.
Design Tip: In small bathrooms, use larger tiles to create an illusion of space. Lighter tile shades can also help reflect more light and make the area appear bigger.
The Total Cost:
In the end, the entire hall bathroom remodel product costs came to a budget-friendly $2,315. We were able to stay within our client's budget while giving the space a fresh look that would undoubtedly appeal to potential homebuyers. The client had their own contractor, so these costs reflect products only and no installation.
Project Tip: Establish a clear budget before starting your bathroom remodel and stick to it, especially when it is for a resale. Prioritize your spending on elements that will have the most impact, such as countertops and fixtures.
Conclusion:
This hall bathroom remodel in Fredericksburg, VA, exemplifies how thoughtful material and fixture choices can transform a space without breaking the bank. My goal as a designer at Reico Kitchen and Bath is to create appealing and functional spaces that align with my clients' needs and budgets. If you're considering a bathroom remodel, whether for personal enjoyment or resale value, I encourage you to explore cost-effective options that don't compromise on quality. Your dream bathroom may be more attainable than you think!
If you have questions or would like to discuss your remodeling project, feel free to reach out to us at Reico Kitchen & Bath. We're here to help you achieve your vision while staying aligned with your budget.