When it comes to bathroom remodeling, careful planning and budgeting are essential. It's important to keep in mind that the actual costs of your bathroom remodel may exceed your initial expectations. However, don't worry! We're here to provide you with valuable advice and education to guide you through the process and ensure a successful bathroom remodeling experience.
Bathroom remodel costs can vary significantly depending on your specific needs and desires. It's crucial to work with a professional and request a consultation to get an accurate quote for your project. To assist you further, we've outlined information for three different levels of bathroom remodels. And if you need even more inspiration, our Bathroom Project & Price Guide offers a comprehensive summary of completed bathroom remodels, categorized by sizes and costs.
Basic Bathroom Remodel
Average Cost Range: $5,500 - $25,500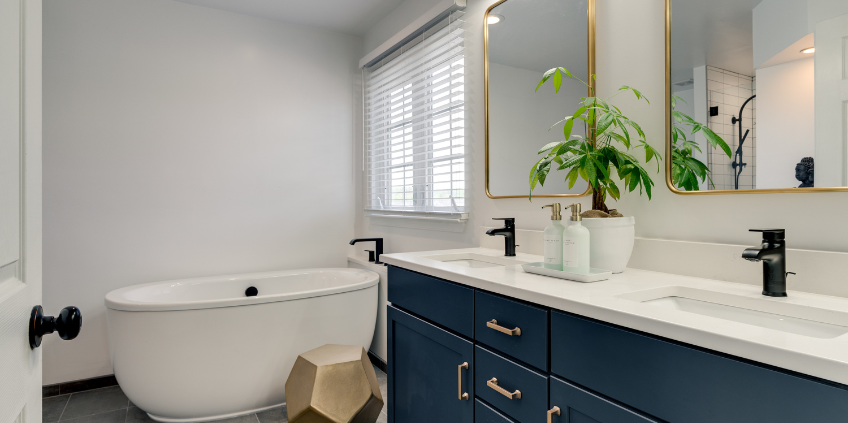 Let's tackle the obvious question right from the start: Can a basic bathroom remodel cost around $20,000? Absolutely. The cost of a basic remodel depends on the specific products included in the scope of work. A bathroom with a lower cost, around $5,500, may involve updating fewer products. And that's perfectly fine! You might prioritize new cabinets and a countertop while keeping the existing shower or bathtub. It all comes down to careful planning.
Most basic bathroom remodels maintain the original layout, which helps keep costs down. By focusing on refurbishing fixtures and surfaces, you can achieve a successful transformation while staying within your budget. The key is finding the right balance between upgrading products and managing costs.
In a basic bathroom remodel, you may choose to replace some or all of the following: cabinets, countertops, flooring, lighting, bathtub, shower, sink, toilet, fixtures, and paint.
Here's a range of product costs for a basic bathroom remodel:
• Bathtub: $3,000 - $4,500
• Cabinets: $1,000 - $5,500
• Countertops: $900 - $4,500
• Flooring: $1,200 - $3,500
• Lighting: $500 - $1,500
• Shower: $1,500 - $3,500
• Sink: $250 - $1,500
• Toilet: $250 - $750
• Paint: $500 - $1,500
Remember, the goals you have for your bathroom and your budget will determine the number of products involved. You may decide to wait a bit longer to include more products and achieve your desired outcome. It's all about making choices that align with your vision and financial plan.
Reico Designer Carolina Maholik, of Chantilly, VA advises her clients to have an open conversation "at the beginning of your planning phase within your household on your expectations, and discuss this with your designer. The best way for a designer to understand and respect your budget is for them to know it is there. I always look for feedback from the customer to know how they are feeling on the budget and how we can proceed to make them feel better. If a homeowner gets a quote back and they communicate their next steps towards the budget, it helps both parties."
Mid-Range Bathroom Remodel
Average Cost: $19,500 - $40,000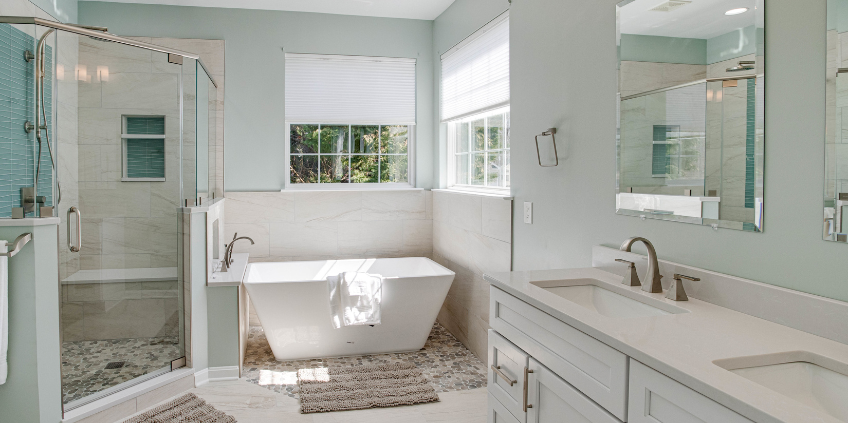 Ready to level up your bathroom? Regardless of how many levels you want to go, a mid-range bathroom remodel is where the excitement can really start to grow. This is your opportunity to make a statement with thoughtful product and design upgrades. Whether you opt for stylish fixtures, semi-custom cabinetry, upgraded flooring, or a combination of products, the goal is to elevate your everyday experience.
In addition to the typical updates seen in any bathroom remodeling project, a mid-range remodel allows for design changes and product upgrades tailored to your space. The result? A bathroom that reflects your personal style and brings joy every time you step in.
Here's a range of product costs for a mid-range bathroom remodel:
• Bathtub: $3,500 - $6,000
• Cabinets: $3,500 - $8,500
• Countertops: $2,000 - $5,500
• Flooring: $2,500 - $5,500
• Lighting: $1,500 - $2,500
• Shower: $3,500 - $7,000
• Sink: $900 - $2,500
• Toilet: $550 - $1,000
• Paint: $750 - $2,500
Remember, these are approximate costs and can vary based on the specifics of your project. A mid-range bathroom remodel allows you to unleash your creativity and design a space that truly represents your style and preferences. Reach out to our experts for a personalized consultation and let us help you turn your bathroom dreams into reality.
Sometimes, clients may say that they don't have a budget or they don't know what they want to spend. Annapolis, MD Reico Designer Katherine Dashiell uses completed projects and images of various sizes and work scope to give clients an idea of costs. "If their bathroom is twice as big, I tell them to double the pricing, etc. They'll tell you if it's too high, about what they expected or be really happy that it was less than they thought. Once we have an idea of what they want to spend, we start selecting materials in their price point that give them the look they want."
Luxury Bathroom Remodel
Average Cost: $45,000 and beyond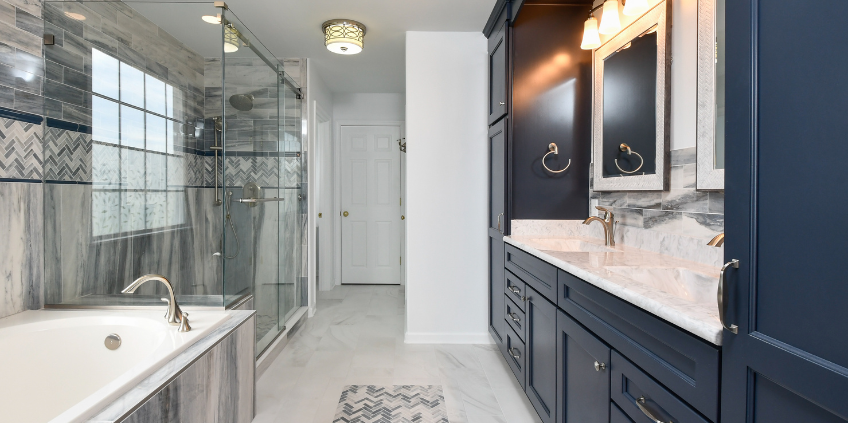 Is your ultimate goal to create a bathroom that feels like a dream come true? A luxury bathroom remodel is where your visions for the perfect bathroom can become a reality. It's your chance to transform your bathroom into a personal retreat, tailored to your unique preferences. With a highly personalized design and top-quality craftsmanship, you can create a space that offers lavish finishes and customized features, providing you with a sanctuary to relax and rejuvenate.
Typical elements in a Luxury Bathroom Remodel include upgrading your bathtub and/or showering experience, investing in custom cabinets and storage, selecting high-end countertops and flooring, and adorning the space with lighting fixtures that provide both the functional and the features to create your own spa-like getaway. The result is a bathroom that exudes comfort and offers an escape from the outside world, providing you with a truly luxurious experience.
Here's a range of product costs for a luxury bathroom remodel:
• Bathtub: $6,500 - $10,500
• Cabinets: $8,500 - $17,000
• Countertops: $5,500 - $9,000
• Flooring: $5,000 - $7,500
• Lighting: $2,500 - $4,500
• Shower: $6,500 - $10,500
• Sink: $3,500 - $5,500
• Toilet: $800 - $2,000
• Paint: $1,000 - $3,000
These cost ranges give you an idea of the investment required to create a luxurious bathroom tailored to your preferences. By choosing high-quality materials and finishes, you can elevate your bathroom's ambiance and create a space that surpasses your expectations.
Reico Fredericksburg, VA Designer Cat Neitzey advise all clients to start budgeting early. "The more you learn ahead of your project, no matter the size, the smoother it will go when you are actually ready to order. Making sure you have 10% available to spend beyond your budget at the time you start a project is a great way to avoid sacrificing design or product elements at the last minute if things change when the contractor starts the work. I always suggest the client quote everything they want in the first round, even if you know it will be over budget. That way you can look at hard numbers to make practical decisions and feel more certain you are making the right choice versus postponing a project until you can save a larger budget."
Labor Costs for Bathroom Remodeling
When planning any level of bathroom remodeling, it's important to consider labor and installation costs alongside product expenses. Even seemingly small changes like replacing a vanity cabinet or toilet require disconnecting and reconnecting basic plumbing. As the design becomes more involved, costs tend to increase, especially when electrical and plumbing work are required. Establishing a clear scope of work is a crucial element for the success of your bathroom remodeling project. By clearly defining the tasks to be completed, you can ensure a smoother and more cost-effective renovation process.
Next steps to Bathroom Remodeling
Please keep in mind that all of these product cost ranges are approximate and can vary based on the specifics of your project.
Check out our Bathroom Project & Price Guide to see actual bathrooms remodels and costs to further shape a more realistic idea of what your project might cost. Better yet, request a consultation to speak with a Reico Kitchen & Bath design expert about your bathroom remodeling project.
If you are not quite ready for an appointment, then just visit one of our showrooms for ideas and inspiration and the chance to connect with one our professionals to answer basic questions and offer guidance and expertise.
Together, we'll transform your bathroom into a space that meets any budget or level of needs. Your new bathroom awaits!